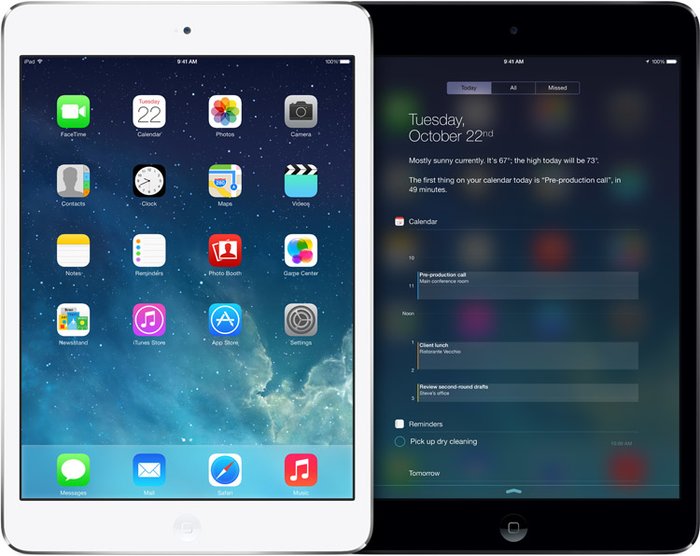 iPad mini 2
is the latest device from Apple aimed to battle for the small tablet market. It seems that the manufacturer succeeded because this device has installed shiny new A7 chip and a whopping 128GB of internal storage (though the most expensive version). As icing on the cake appears fantastic Retina display and improved battery life, in order to hold increased number of pixels and a powerful processor for long. However, this is only part of the story, because the question of cost, which this time is fairly balanced, unusual for Apple, but certainly commendable. Issue with this tablet is the fact that
Nexus 7
and Amazon Kindle Fire HDX have a similar price. iPad mini 2 expectedly has no memory slot, and it is almost certain the 16GB version is not the best choice you can make. The story that Apple's devices need to pay more just because they carry the logo of Apple slowly ends. Competition makes the pressure, and Apple is slowly adapting the market. However, Apple's devices, including the tablets, are well designed and belong to the premium segment, but spending more money for more memory may not pay off. However, the iPad mini 2 is a big step compared to the first version of the iPad mini. There is a new quad-core A7 processor and quad-core graphics, so we can say that iPad mini 2 is taking the battle against the price at which it will maybe win.
iPad mini 2 design
The difference compared to last year's model is negligible. But, it becomes clearer when this tablet is taken into the hand and you feel about 20 grams more. iPad mini 2 its design cues shares with the iPad Air machine. iPad mini 2 is convenient to hold in one hand. Aluminum case is a big plus here. This may be the biggest difference from the Nexus 7, and the build quality is definitely on the side of Apple 's tablet. You need only to look at the tablet and to make it clear that it has the best design on the market. The smooth surface and gently rounded edges are a great combination. When you hold the tablet in your hand you have the impression that everything is very well done and there is no chance that something will break.
iPad mini 2 screen
We should not waste too much words about this screen. Its absence on the previous generation of iPad mini was a great pity, but the failure is annulled. Text and even each letter particularly are crystal clear and clean, the colors are quite real, and when you turn the tablet you will see an incredibly sharp icons that will force you to use this great device a lot.
iPad Air
has slightly better picture, but it is still much more powerful device, so it's not fair to compare it with. Perhaps the only real problem here is the 4:3 image display that Apple uses, so you'll have to get used to the black bars at the top and bottom of the screen while watching videos. This is particularly important given that most of us buy a tablet to enjoy movies or video clips. However, because of the quality of the 7.9-inch screen surfing the net and playing games is a real treat. Playing the music and video is really great.
iPad mini 2 interface
The new
OS 7
broughts here a lot of improvements too for which Apple was desiring for. Now everything looks better, clearer and purer. In addition, the iPad mini 2 offers quite a number of settings, so you can choose whether you want some 3D animation and effects or not. Noticeable changes are in notification bar, the control panel, task manager and more. Yet, still, there's no customization like Android, because Apple still wants everything to be simple and efficient.
iPad mini 2 camera
The camera interface has been simplified compared to that of the iPhone 5S, just like iPad Air. This means that you will not have all the recording options as the best Apple 's phone, which can deteriorate an impression of this camera that makes very good pictures, regardless of its 5MP. The camera focuses very well and tablet is quite handy for shooting in portrait mode.
iPad mini 2 battery life
The battery is 50% larger than that of previous version. And it was a big hit Despite more pixels and more powerful processor battery is doing fine. If you insist on watching videos and playing demanding games you will charge the battery every three days in average, which is great. Still, if you are demanding user, you should know that there is no fear that it will drain the battery before the end of the day.
iPad mini 2 conclusion
This tablet is really looking great which is inspired by its aluminum shelf. All applauses go to the fact that Apple managed to incorporate a super-fast processor and a generous battery into a slim waist device. Battery is simply indestructible and A7 processor unstoppable. The screen is clear and impressive. The main drawback is the price, especially if we take into account that the cheapest version with 16GB (one of which actually available is only 12GB ) is probably insufficient to explore the full potential of this tablet. Beside that, it could be said that this tablet is without shortcomings. Photos :
apple.com
---
---
---
---
Search
Search and see the latest blog posts.