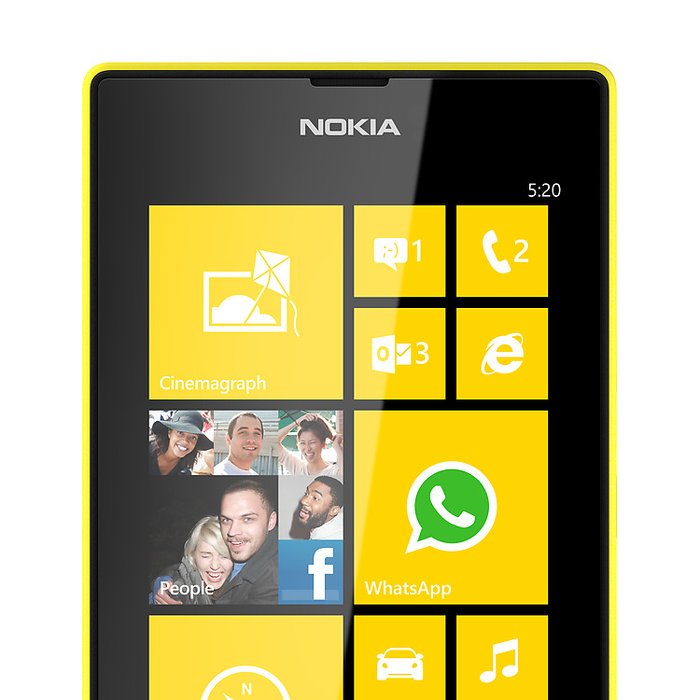 Lumia 520 is one of the most prominent members of this family. This phone is a low price device, which is a step below Lumia 620. The similarity between this two guys isn't too big, which means you can choose between models from the same manufacturer in the same price range. The largest competitors of this model are Huawei Ascend W1 and Huawei Ascend G330. Based on that, the battle for customers with less money shall be conducted between Finnish and Chinese companies. However, right now you should know that the
Lumia 520
is the best-selling Windows Phone 8 phone thanks to good specs and a low price.
Lumia 520 design
Like many phones showing these days, this one comes in multiple colors too. It is enough to replace the plastic surface, and it looks like you bought a new phone. It's available in yellow, blue and red, with the classic white and black colors. No matter it's a low-end model , Lumia 520 looks very nice. Its main point is the curved back, which makes it similar to
Lumia 620
. However, the 520 looks a bit better. In addition, the younger relative is thinner and lighter. The good thing is that the plastic surface is pleasant to touch, and holding the phone in your hands is not a problem. In addition, 4-inch screen perfectly suits even in smaller hand. The phone's back is very simple, but very nice also. Apart from the camera lens, the Nokia'a logo and a small speaker on the bottom there are no other details. On the side are placed power, volume and camera keys.
Lumia 520 screen
Why are so many demands of Lumia 520 phone? Firstly, this phone has a very good IPS LCD 4 -inch screen with a resolution of 480x800 pixels. It used to be a great resolution. Today, however, it's about average, as also as the solid 233 pixels per inch. An additional plus for this display is the possibility to use it with gloves on. Maybe this is the right phone for the rest of the mountain!? The screen does not extends from edge to edge, so there is a little more of plastic at sides, which is typical for the cheaper models. However, it's more a matter of aesthetics and there is not a problem in usage.
Lumia 520 specs
Driving force of Lumia 520 are 1 GHz dual-core Snapdragon S4 processor and 512MB of RAM. This is not something impressive, but be sure that 's enough for this phone, which works quickly and precisely like clockwork. Lumia 620 has a slightly better processor, but the Lumia 520 works very well too. The phone is equipped with a 1430mAh battery, which is, oddly, more than the Lumia 620. Under the battery there are two slots. One is designed for micro SIM card and the other for up to 64GB, which is important given that the phone comes with 8GB. Unlike some more expensive model, Lumia 520 doesn't have NFC connectivity, and the camera has no flash, plus no front-facing camera. The camera is basic, with a 5MP sensor. It doesn't possess any special settings or options. But, with Amber update camera got some options. However , it's commendable that the camera has a dedicated button on the side of the phone. Photos aren't bad, but the lack of flash has stoped this phone to be almost perfect.
Lumia 520 software
Lumia 520 runs on Windows Phone 8 platform and it has taken Lumia Amber update, which means that an oversight has been corrected and users finally have FM radio, but also the ability to use Bluetooth 4.0, which enables higher data rates and lower power consumption at the same time.
Lumia 520 conclusion
Lumia 520 successfully combines solid specifications with excellent price. This is the reason for the success of this phone. With enough CPU power and 4-inch screen, this phone has everything the average user could want. The lack of front-facing camera and LED flash is something that spoils the impression of the truly great phone. Also, the screen is a fingerprint magnet. Battery could also be a little better, although this one is acceptable. Warmly recommended ! Photos and videos:
nokia.com
---
---
---
---
Search
Search and see the latest blog posts.