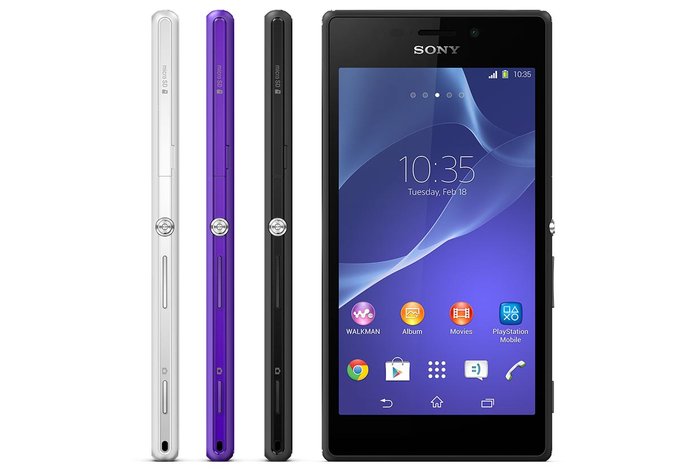 This is the Xperia M2 - the successor of one of the best-selling Sony smartphones, the Xperia M. Therefore, this model is given a task to do this again. To help him out, Sony provided a great a design taken from the models of the Z series. If you expected this phone to be waterproof, than you may be sad, because Sony has left out this option. The reason for that is cutting the price, which is a primary goal to this king of handsets. Xperia M2 is taking its visual identity from big and great Xperia Z2, which is certainly a good advantage when it comes to customers. So, the Xperia M2 is looking to buyers over a really great design and moderate price. Who is this phone directed to? To anybody who is willing to pay some euros extra to get a beautiful Sony design.
Sony Xperia M2 design
At first glance, the Xperia M2 looks almost identical as Xperia Z2, which is a big compliment. Sony generally cares about the appearance of their devices, and a potential bestseller Xperia M2 is no exception. Phone has little narrow edges and a flat surfaces at front and back. Of course, Xperia M2 is smaller and lighter than the larger cousin. As expected, the phone in hands doesn't leaves the strong impression as a magnificent Z2, but far from the phone is cheap.
What makes this phone different from the premium class is the absence of the aluminum frame on the edges. Instead, Sony has used cheaper rubber, which prevents slipping from hand. Like its predecessor, Xperia M is made of plastic, but with modest quality. The background looks glazed, which gives a special charm.
Xperia M2 has 139.7 x 71.1 x 8.6 mm and somehow it (the 4.8-inch screen) makes enough for one device to retain the necessary comfort. Of course, Xperia M2 is far from a tiny device. One thing could make this phone to be like its big brother, but it lacks. It is the waterproof certificate. However, this has one advantage, which is reflected in the open microUSB port, which offers easy access, cause there's no more waterproof flips there.
The phone at the bottom has a built- in speaker, which is unusual and appealing solution. The new M2 is producing in several colors (black , white and purple). Also, Xperia M2 is available as a Dual SIM device.
Sony Xperia M2 screen
The 4.8-inch screen comes with 960 × 540 pixels, which offers 229 ppi. This tells us that this isn't the best screen in its class, but surely it's the biggest one. If you aren't used on full HD or HD screens, it should not worry you too much, because the image is quite good. The colors on the screen are, as expected, strong and rich, and viewing angles very good, so no problems a few people using the phone at the same time.
Text on the screen looks slightly worse than expected. It lacks sharpness, and the M2 is far behind polished model Z2, and the main and cheaper competitor Motorola Moto G! If something's worth here, that's the largest display in its class, but that's just a price of low resolution. Visibility in daylight is quite good.
Sony Xperia M2 camera
Unlike the new models with Z sign, Sony Xperia M2 doesn't have the honor to "host" the 20MP camera. Instead, here's a classic camera of 8MP. Still, it's enough to be better than the competition, which is still dealing with 5MP. As with similar models this camera interface has a lot of features and shooting modes. Among them is the Superior Auto mode, which automatically adjusts the camera for the best possible results, but at a resolution of 5MP.
Picture quality is variable. On a sunny day the quality is good, with plenty of details. However, if you shoot indoors the photo accumulates the noise, but basically it looks good, thanks to post-processing, that removes the most of noise, although the camera can sometimes go too far with it. The 1080p video is acceptable, especially if it is taken in low light environment. Front camera with VGA resolution is pretty bad, but for occasional selfies is sufficient.
Sony Xperia M2 specs and performance
The phone runs on Jelly Bean Android operating system, but with promised upgrade to KitKat. Even without the new software, Sony Xperia M2 works quite nicely. The smoothness is provided by quad-core Snapdragon 400 clocked at 1.2 GHz. It's also important that the phone has 1GB of RAM, so you can open a few apps simultaneously. The internal memory isn't too low (8GB), and, if necessary, can be expanded .
Sony did' want to put heavy demanding user interface, so that's a good reason why it's working very well. There are no lags and delays. Apps are opening at normal speed, so it's quite ok. The interface looks nice, the animations too. The Xperia M2 has pre-installed music, video and gallery apps.
The phone uses a 2300mAh battery, which provides about 14 hours of talk time over 3G. If you're an average user, you can count on no problems for taking the whole day of running with a single charge. There is a special energy saving mode that, when the battery gets to a certain level, shuts down all the networks in order to maintain the remaining energy.
Sony Xperia M2 conclusion
The Sony Xperia M2 is beautifully looking smartphone. It looks more expensive than it really is. While the visual sense resembles the relatives of Xperia Z series, Sony Xperia M2 offers considerably more modest performance compared to them. However, it's aimed to a wide range of users, so the premium design and performances are out of the question. The absence of a KitKat Android is something that can be fixed by simply updating, but not water-resistant. Is it enough for beating the competitors, it's hard to say. Many of them offer more for less money, best example is the Motorola Moto G.
Photos and video: sonymobile.com
---
---
---
---
Search
Search and see the latest blog posts.