Have you Selected your Trendy Tablet for the Summer?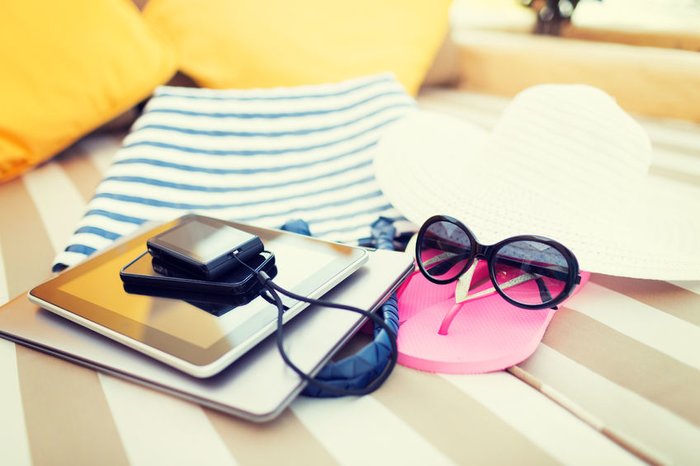 Summer and vacation are finally here! We are all looking forward to long walks on the beach and lying under the palm trees somewhere in the tropical paradise. While doing that you will need something to read, so if you don't want to take five books with you, we suggest only one thing - a trendy tablet. Why tablet, you may ask, and the answer is simple:
tablets are mini-computers with a fundamental advantage – they are powerful, and they are mobile
. It might look like tablets are one step down compared to the full-size computer, because the lack of a keyboard and their smaller screen. However, portability is an advantage that you should take very seriously when you are on a vacation. A trendy tablet could de-throne any laptop and "small" smartphone in the time of leisure. With 7-inch to 10-inch display that trendy tablet nowadays have, they have the perfect size for watching a video, playing games, reading documents, editing vacation images, etc. They are much comfier for different kinds of work than your smartphone is, and they are equally (if not better) equipped with high-resolution touchscreens, sound processors and quite powerful batteries. These advantages of a trendy tablet will come in handy especially when you're editing images or video files that you want to share. If you are still not sure why you should use a trendy tablet this summer (especially on vacation), here are some reasons: -
You will never get lost
- With so many applications that exist today and high-resolution screen, there is no chance of getting lost. You can turn your tablet into a voice-enabled navigation device and use it to find all these amazing places that you want to visit. The tablet has a bigger screen than your smartphone, and there is no need to take GPS device. -
Tablet = Entertainment
- Whether you want to read a book or news, try new cooking recipes, watch a TV show or find a source of fun for your children, a tablet is a device for you. The trendy tablet is fantastic for keeping the kids occupied, especially on long trips. -
Learn something new
- For example, a new language of the country you are about to visit. By using audio applications, you can learn how to pronounce foreign words correctly, or you can use the virtual "pocket" dictionary all the time. -
Keep in touch
- You can remain in touch with your family and friends by texting them, calling or making a video call while you are walking on the lovely beige-gold sand. Or you can post incredible photos on your social media. There are so many applications to use! -
Organized & On-the-go
- If you want to keep track on how traveling plans are going, the tablet can help you. Everything you have been writing can now be on this amazing device. Hotel details, weather, maps, dates, everything, is in there. Now that you have read all the benefits of having a trendy tablet in your backpack this summer, we present you best of the best tablets, which are functional, reliable and multi-medial.
1. Google Pixel C -
Google Pixel C
is an excellent device made by Google. It has quite a big 10.2-inch screen, powerful hardware with Nvidia Tegra X1 processor and 3 gigabytes of RAM. The battery of 34,2Whr is a great reason to choose this tablet and make it your new favorite toy. OS that Google Pixel C is using is Android 6.0 Marshmallow, so you can rest assured that you have the latest tech all over this trendy tablet.
2. iPad Air 2
- Apple, with their image and persistence, never seems to disappoint us.
iPad Air 2
is one of such devices that you'll fell in love at the fist sight. There are so many reasons why this tablet is an absolute favorite! 9,7'' display and incredible resolution – 2048x1536, for starters. It has 64-bit architecture and faster CPU and graphic performance. Memory capacity is up to 64GB. This tablet is a little bit heavier that the others (437g), but with its weight comes almost perfect performance. Ten-hour battery long life is a definite plus. Multi-purpose, multi-medial, multi-amazing.
3. Lenovo Yoga Tab 3
-
Lenovo Yoga Tab 3
is an 8'' tablet, with 5.0 version of Android 0S. It has a few things which differentiate this trendy tablet from the others –
180° rotating
camera
, battery cylinder and a stand on the back
side of the tablet. The back platform moves gravity center so that it can be used in many ways: you can use it straight up, inclined, on a stand. Lenovo has been working on improving their graphic performance, and they have created this tablet especially for taking pictures, selfies, and for recording a video. It also has AnyPen technology, which means you can use anything like a pen on your tab. Incredible!
4. Samsung Galaxy Tab S2
-
Samsung Galaxy Tab S2
is an 8-inch tablet with
Super AMOLED display
. It has the latest version of Android OS, with excellent resolution of 2048x1536. With its processor Octa-core Exynos 7 Octa 5433 (Quad-core 1.9 GHz Cortex-A57 & Quad-core 1.3 GHz Cortex-A53) and up to 128GB of external memory. It is one of the highly requested tablets on the market. It has a camera of 8mpx and Battery Li-on 4000mAh. So many features in just 256GB! These are our favorite trendy tablets for this summer! We hope that we have helped you make your choice and pick the tablet that you will take on your vacation. Because
you can always use a trendy tablet by your side on a beach somewhere :)
Images from:
TechAdvisor
,
ComunidadAlCampo
,
TechGadgetCentral
---
---
---
---
Paieška
Ieškokite ir peržiūrėkite naujausius tinklaraščio įrašus.