HTC Desire HD review - old innovation still works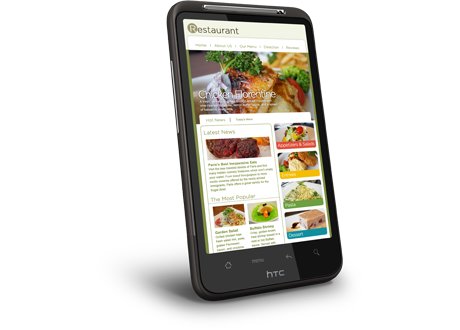 HTC Desire HD
, with code A9191 is model presented in autumn 2010, but still it plays big role on the market. It has great functions, high quality hardware and updated version of Android v4, but still has lower price compared with its competitors. We will present you this model, and that's why HTC Desire HD review is here for.
Design of HTC Desire HD
Dimensions are 123mm x 68mm x 11.8mm, which put this model into group of big phones. We wouldn't say that it's giant, but with display of 4.3-inch, you can watch your videos like on TV. HTC Desire HD goes with black and brown color. General conclusion - if you have small hands, it will be a bit tricky to use this model.
Specifications of HTC Desire HD
In short notes: great processor, big display, you can upgrade OS... But let's start from beginning.
Processor of 1GHz
is very powerful (don't forget - it's made in 2010), so you can rely on its speed.
Operative system
is built
in Froyo v2.2
, but it is possible to update it up to v4, which includes
Gingerbread and ICS
.
Camera is 8MP,
auto focus and dual LED flash. It has face detection capability and geotagging. Video recording is possible with HD quality, 720p .
Display is 4.3 inches
, with resolution of 480 x 800 pixels. Touchscreen is LCD
capacitive
, protected with
Gorilla Glass
technology, Connections is
GPRS, EDGE, 3G WiFi, and Bluetooth
.
Internal memory is 1.5 GB
, but it is expandable up to 32GB.
Battery
is
1230 mAh
, which gives you
5:30 h of talk in 3G.
Other functions:
Dolby Mobile system
- for better audio quality,
HTCSense.com
support for managing your phone if its lost,
eBooks
readable,
Facebook
and
Twitter
applications.
Advantages:
*great display *fast processor *great camera *upgradable OS
Disadvantages:
*battery life - too big display *browsing capability *no video calls Do you like the
HTC Desire HD
? Leave some comments:
Source
:
---
---
---
---
Ψάξιμο
Αναζητήστε και δείτε τις τελευταίες αναρτήσεις ιστολογίου.