20 Ways to Extend Battery Life on your Smartphone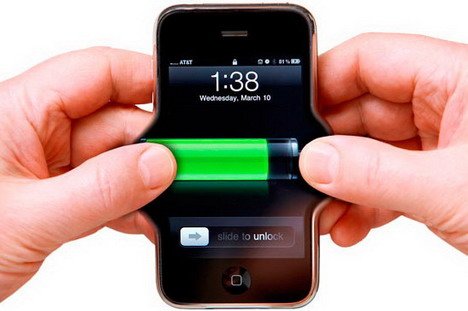 Have you ever been in a situation that you need your smartphone to make a call or to take a cool picture, but you couldn't do it because your battery is too weak? Or even worse - dead. Such a thing can happen to all of us, so we must learn how to prevent it and how to extend battery life on our smartphones. At least until smartphone manufacturers finally manage to create a battery that will least an entire day. Here is our list of 20 handy waysthat you can apply to extend battery life of your smartphone, at least to make it through the day without unpleasant surprises. Let's start:
1. Find the biggest battery hogs and turn them off
. You don't have to be a detective to find them. All you need to do is to visit "Settings" area and find the "Battery" option. List of all applications, features and widgets that are draining your battery will be here. Find the ones you don't need and turn them off, or even better, remove them from your phone.
2. Avoid auto-sync and constant notifications for your email, Facebook, Twitter, Instagram and other accounts
. Most of these apps supports manual refresh when you start them, so there is no need for constant updates. If you truly need some off them to keep you up to date all the time, leave just that app on auto-sync mode and cancel all the others.
3. Turn off persistent cloud backups
. Do you need to have backups every five minutes? Once a week is just enough for your smartphone to sync with your Google Drive, Dropbox or iCloud service and create a new backup for you.
4. Switch off hardware radios, such as Bluetooth, WiFi, GPS, NFC and others
. You don't need them all the time, so instead of keeping them on and letting them eat your battery alive, turn them off. You will turn them on quickly once you need them. [caption id="attachment_8238" align="aligncenter" width="300"] Turn off all the hardware ratios you don't use.[/caption]
5. Turn of vibrations
. The small movements that your phone is making while vibrating require a lot of battery power. So, use vibration only when necessary and you can save some energy for the crisis situations.
6. Use power saving mode
. Each phone have a specific power saving mode that you can use. Give it a try and compare how it affects your battery life. If you are not happy with results, you can always create your power savings mode and attempt to achieve a better battery savings score.
7. Turn down the brightness level of your display
. You might be using automatic brightness setup, but that's not enough. Your screen can still be dimmer and serves perfectly for you. Smartphone display is one of the biggest battery consumers, and this is why need to make sure that we are using it in an optimal way.
8. Decrease screen time out
. Statistics says that
an average user check a smartphone 110 times a day
. Now multiply it with your screen timeout and you will see how many wasted minutes you have left. Our advice is to decrease screen time out to 30 seconds.It gives you just about enough time to do your thing before you let the phone go to sleep. [caption id="attachment_8240" align="aligncenter" width="300"] Set when your screen will go to "Sleep" mode[/caption]
9. Create "Do not disturb" mode
. Use this mode when you are not using your smartphone. When you are at work or school you don't want to be available for calls; you don't need internet access, and you certainly don't want to receive messages. You can use this mode while you are sleeping, too. And here's an extra tip: you can even automate action on your phone and have this pattern started automatically every evening at 11 PM, or every day at 9 AM.
10. Disable background apps
. There are plenty of applications that are running on your phone, under the radar. To locate them use "Settings > Apps > left swipe" on Android devices. Once you trace them, it will be quite easy to get rid of them.
11. Dump home screen widgets and wallpapers you don't use
. Yes, it is cool to have a fancy wallpaper, but are you willing to sacrifice your battery for the sake of beauty? And if the wallpaper is animated, make sure to get rid of it right away. It drains your battery like crazy. The same rule applies to home screen widgets, so make sure you are using only the ones that you really need.
12
.
Use dark themes and background images
. Warning: this tip can help you only if you are using AMOLED screen. Since these screens are using individual pixels that are turned on and off to display images, you can save some energy if you like the dark setup. Black pixels don't need any light, so here's what's the secret about it
13. Use "lock screen notifications"
. Users of Android Lollipop have probably spotted them because they are on automatically. They appear while your screen is locked and give you updates on important notes. You can read them quickly with no need to start the screen. Lock screen notifications are also available for KitKat users, but they need to enable them first. [caption id="attachment_8244" align="aligncenter" width="300"] Lock screen notifications on Android Lollipop[/caption]
14. Make sure that your apps are up to date
. Sometimes a new update is here to optimize battery consumption of the application, so check if you got the latest version of the apps that you are using the most.
15. Disable Google hot words, like "OK Google"
. While your phone is constantly on the watch for "OK Google" it runs a few background processes that require a certain amount of energy. If you are using this service intensively, then forget about this tip, but if you are like most of us and just need it occasionally, then spare your phone from troubles and turn it off.
16. Keep an eye on areas with poor network signal
. While struggling to stay connected to the network, your smartphone is losing quite a lot of battery juice. What you can do is to release it from the misery and switch to airplane mode while you are at the place where you don't have good network coverage. It will save you some battery power.
17. Read reviews before you buy a new phone
. Make sure that you have all information before you make a decision to purchase the phone. Smartphone manufacturers have their specifications and estimated battery life, but real usage is something entirely different. There are detailed reviews on the internet about all parts of the smartphone (batteries included, with real data about the battery duration), so make sure you do your homework before you grab your new toy.
18
.
Buy battery case or large extend battery
. Such a device can provide you with a few extra hours of battery life that can come in handy while traveling or visiting areas where you can't charge your phone that often. [caption id="attachment_8246" align="aligncenter" width="300"] Battery case for Samsung Galaxy S3[/caption]
19. Don't expose your smartphone to direct sunlight
. Most of the batteries are optimized to work at a room temperature. While you are using your phone, it is already heating and if you leave it exposed to sunlight (or any other heat source) you can expect to see battery level in the red zone. Thus keep your phone in the shades.
20. Don't be a phone freak.
Put the phone down, you don't need it all the time :) The truth is that all of these tips and tricks will not increase your battery life for another twelve hours. But, they will provide you with extra few hours that can make a difference. If you apply some of this advice, you will be able to have your phone here for you in a situation when you REALLY need it. So, feel free to give them a try!
How you keep your battery alive? We would love to hear some of your tricks, so feel free to share them with us in comments!
Image source:
Quertime
,
Pocketmeta
,
Androidpit
---
---
---
---
Ψάξιμο
Αναζητήστε και δείτε τις τελευταίες αναρτήσεις ιστολογίου.