Gingerbread is the most dominant Android OS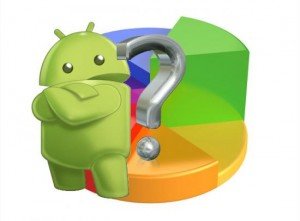 Web site Developer.android.com presented results of their research for market share of Android OS. Main parameter was access and downloads from Android Market. Research for two weeks, until 1st of February. And they very interesting results...
On graphic chart below, you can see results. Gingerbread, or version 2.3 and 2.3.3, is the most dominant Android OS with over 58% of users, second place is reserved for Android 2.2 Froyo over 27%, and the third is Android 2.1 Eclair with less than 9% of market share. The best version of Android OS is not so popular on market, only 1% of users had Ice Cream Sandwich or version 4.0 - 4.0.3, but we expect invasion of this Android version in the future. About 3.5% of users download the application over 3.0 Honeycomb, version made for tablets.
Android market share results
General conclusion is next: there are no dramatic change on the market share of Android OS, with trend of decreasing old versions. And when Ice Cream Sandwich explode on the market, it will be interesting to see what version will be old then.
---
---
---
---
Buscar
Busca y ve las últimas publicaciones del blog.