Messaging apps, by Google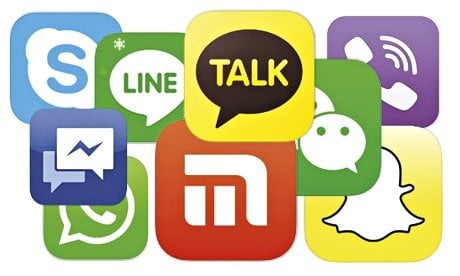 A few days ago
Google I/O conference
took place in Googleplex, in Mountain View, California. Among many interesting things that happened there, such as the announcement of new Android N (Nutella is our favorite), Daydream VR, and others exciting news from Google, our attention was caught up by two new messaging apps. Yes, you read it well -
Google decided to release two new messaging apps
. In total, Google now has four messaging apps produced and maintained by their teams. To help you count them all, and figure out which of them you want to use, we will make a quick tour to each of them.
1st of two old messaging apps - Google Messenger
Google Messenger
is an
SMS and MMS app that you can use to do much more than simple texting
. For example, you can send group text messages, videos, pictures and even audio messages. To make a difference comparing to other messaging apps used mainly for sending SMS this app makes it super-easy to send video captures or images from your gallery to a person you're texting. It is surprising that this application is not part of the Google standard apps set that you get predefined with Android, not even on Nexus phones, so you can use it only if you download it from the Google Play. A lot of
online reviews
are recommending it as the best in class, so feel free to give it a try. Even if this app is from Google family, it will not mix up all the Google related chat threads into one mix (as Google Hangout does when using it for SMS). It will be used only for sending SMS and MMS messages.
2nd of two old messaging apps - Google Hangouts
If you have a Gmail account, you have probably used
Google Hangouts
at least once.
This application used your email contacts and created a chat connection between you, so you can chat with anyone you ever emailed
, who has an active Gmail address. Besides chat functionality, this application can also be used for making free calls to other Hangouts users, and it can be an SMS client. You can share your images, organize group chats and group calls. So, it's quite a decent app, and there are a lot of people who are using it for different purposes. But, it's not on the top of the game.
Allo, future of messaging apps in Google
First, of two new messaging apps is
Allo
. At first glance, this app will remind you of Facebook Messenger (it has a similar interface), but once you start using it, you will see that it is quite different. Besides chatting with people, you will also be able to use some shortcuts.
Google machine learning algorithms are implemented in this app
, and it will learn about you and your talks. For example, if you always say "Hi, what's up?" to one of your friends, the app will suggest you start a conversation in this way every time you get pinged by this person. And a proper emoji will be added to the mix. Another handy feature that you can use is asking Google questions while you're using the app. So, when you want to go to a movie theater, you can just ask Google what movie is on next and make arrangements with your friends. Some of the other features that you can use with Allo are: -
incognito mode
, with messages encrypted on both ends so that you can have fully private conversations, - ability to
share photos directly from your camera roll
, - lots of
stickers
with different themes, - ability to
make the conversation more alive
by "whispering" or "shouting" options.
Duo, Google's video messenger
With
Duo app
, Google decided to take part in the video messaging apps market. There are already a lot of similar apps out there, such as FaceTime, Facebook Messenger, Snapchat and others, but Google decided to be different.
You can only make video calls with this app, and that's it
. Google team wanted to keep it simple this time. An extra feature that you can use is that you can see who is calling, before answering.
Engineers from Google said
that they hope this little insight will increase the response rate in video calls and that it will make such calls more relaxed and schedule free.
What are the messaging apps for me?
This is the question that we're all asking from time to time, but the answer is not that straightforward.
There is no one app to rule them all
, yet, and it is not very likely that there will be such an app on the market anytime soon.
We're used to diversity, and we're using all those different messaging apps to communicate with various kinds of people
. When I look at my app list I don't see a bunch of apps; I see groups of contacts. For example, I use Skype for talking with my parents, Slack for business, Viber for friends, Whatsapp for my friends abroad, Facebook Messenger for communicating with some kids that I work with, and Hangouts for a few friends who can't use other apps while they are working. So, having so many messaging apps may not always be a bad thing. It can help you keep conversations and groups of people separated. And two new messaging apps in the crowd might just add more fun. Images from:
PC Advisor
,
The Guardian
,
Google Play Store
---
---
---
---
Buscar
Busca y ve las últimas publicaciones del blog.