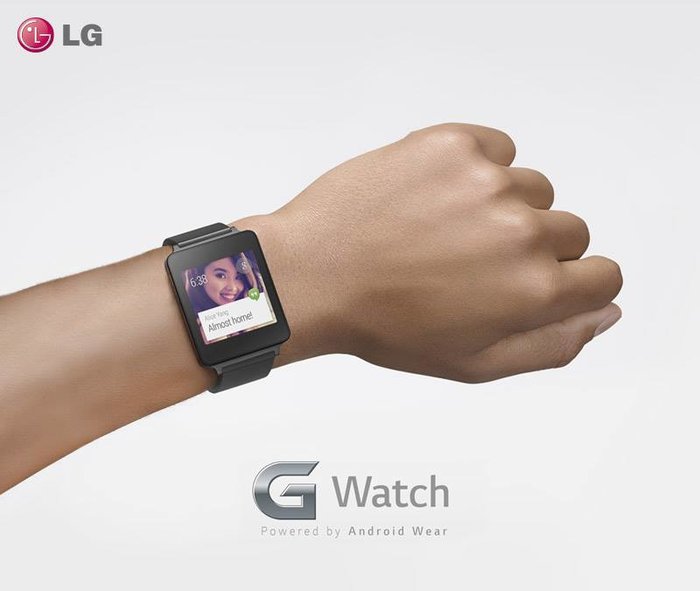 LG G Watch
is one more smartwatch in our offer. Also, it's one of the most affordable of its kind. This is LG's first smartwatch, and the company is hoping you'll buy this watch in order to pair it with
LG G3
or some other LG smartphone, although you can pair LG G Watch with any Android smartphone. The only condition is to be equipped with 4.3 or higher Android OS. Like any other smartwatch, LG G Watch is a mediator between your phone and your.
LG G Watch Design
It's not one of the adorable devices. LG G Watch isn't that for sure. It's very minimalist and without any labels, even without the LG's logo. The only spot where you can ensure yourself you have bought LG G Watch is a back side, which is usually not available to the viewer's eye. When you assure there's only one LG logo, and put it on your wrist, you will feel LG G Watch is very suitable to wear. It has only 63g, and nicely rounded edges, so there's no uncomfortable feeling some watches can make. The rubber around the wrist is pleasant to touch, but it can make you hand little sweaty when you wear watch for some time, or when it's hot. If you don't believe in aesthetic quality of this rubber, take any standard armband you like and just replace it. LG G Watch is waterproof device and it's quite reasonable not to see any ports. Everything is sealed, except the charging port at the back side.
LG G Watch Display
The display is a core of any smartwatch. Particularly, this one has 1.65-inch IPS LCD display with 280x280 pixels, which is about 240ppi. More important than pixels are the viewing angles and the readability under the sunlight. The first thing is done very well, but the resistance to the sunlight isn't something LG managed to fix well. The display responds very well to the touch and there's no need for harder pressing.
LG G Watch Specs and Performances
Snapdragon 400 is a mini processor in charge of running this device. At the 1.2GHz it manage to do job smoothly, which shouldn't surprise you, because smartwatches don't have any hard demanding tasks. Also, the G Watch has 4GB of internal storage, which is the only storage option here. LG G Watch runs like an arrow, without any lags and annoying hiccups. Since the internal memory is only available here, you will be forced to reduce your file accumulation. However, LG G Watch most of its operations do throw the sensor, which tracks your steps, works as compass, etc. Also, the G Watch has an Eye-on feature, which tracks you look and automatically turn of or turn on the screen. You can adjust screen to be on all the time, but it drains battery faster. With 400mAh, the LG G Watch can last up to two, two and a half days max. LG G Watch works like a stopwatch, alarm, as also as navigation. But that's not all. LG G Watch can remind you about your meetings. The biggest drawback is speaker missing, so you can't talk throw LG G Watch, but there's a mic. The mic is ready to transfer you voice command to Google Now. It works very well and until there's no much noise around you Google Now will do what you need. Via Bluetooth LG G Watch is connected to any newer Android smartphone. So, there's no need to have one of LG's phones, like Samsung is asking from you if you plan to purchase one of their smartwatches. The UI is very simplified and easy to use. Also, you can make a filter for notifications you want to receive.
LG G Watch Verdict
To buy or not to buy, that is the question. LG G Watch cost under the 200 euros at the end of August 2014. This isn't perfect device. But, it's the first one LG produced. If you are a tech lover or you just want to replace classic wristwatch with smartwatch, LG G Watch isn't bad solution. LG still has to do a lot of improvements in order to make really good smartwatch. Otherwise, the competitors will be much stronger. Samsung has already several smartwatches in offer. LG G Watch is lacking some features, the display is poor under the sunlight and the battery life isn't great. So, if you can't wait LG to make new smartwatch, LG G Watch is here. If don't, you can wait for next 6-12 months for some new and better G Watch. Photos:
lg.com
---
---
---
---
Buscar
Busca y ve las últimas publicaciones del blog.