Huawei Mate 9 - a Perfect Holiday Gift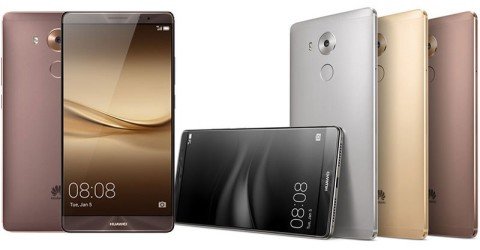 If you're a phablet fun and you love big and functional phones, we have a real treat for you today -
we're presenting you Huawei Mate 9
. Even if it's not released yet,
Huawei Mate 9
is buzzing all over the internet with its specs, promised performances, and stunning looks. All we know is that it will be available to us "soon" and we can't wait for it. To make the waiting time shorter, we will present you the most attractive and most wanted phone this holiday season Huawei Mate 9.
How Huawei Mate 9 looks like?
Huawei Mate 9 is a stunner.
The all-metal, aluminum body makes it look really robust and stable
. It is a bit rounded on edges with interesting details on the back, next to the camera lenses. When looking Huawei Mate 9 from the back, you can see a
dual camera at the top with two lenses, sitting vertically
, not side by side (like they used, to on other Huawei devices). There is a LED flash on both sides of the phone and a laser sensor for autofocusing. Another thing that you will notice on the back of Huawei Mate 9 is a fingerprint sensor. This sensor comes really useful as a shortcut – you can just swipe you finger downwards on the sensor, and it will pull down the notification panel. Huawei Mate 9 comes in two different flavors – Mate 9 (the regular version) and
Porsche Design
(the exclusive one). As you guessed correctly, Porsche version is a result of collaboration with the famous car manufacturer. Huawei Mate 9 Porsche Design has slightly curved edges and is similar to curves on Samsung Galaxy S7 Edge. Huawei ensured us that their rounded phablet will not burst into flames,
as Samsung's unfortunately did
. Huawei Mate 9 comes in few different shades – Black, Space Grey, Moonlight Silver, Champagne Gold, Mocha Brown and Ceramic White. The Porsche Design version is available in Sexy, Smokey, and Stealthy Black. With such a gorgeous choice of colors, everyone will be able to choose their favorite.
Huawei and Leica created an excellent camera for Huawei Mate 9
To create great camera specification, Huawei partnered up with
Leica
, a famous German camera manufacturer, well-known for its rangefinder cameras. And they builtsophisticated and powerful back camera with
two photo sensors – one monochrome and one colored (RGB)
. The color sensor has a f/2.2 lens with 12MP resolution and can record in 4K, while the black-white sensor f/2.2 lens and 20MP. It's interesting that both of the sensors create two separate images and combine them together to get a detail-oriented picture, with vivid colors. If you wish, you can also use them separately to get all black and white images. On top of such an excellent lenses, Huawei Mate 9, also has a hybrid autofocus which combines laser, depth, contrast and phase detection focus.
What is under the hood of Huawei Mate 9?
Huawei Mate 9 has one of the best components in the world – octa-core
Kirin 960
CPU. This processor is incredibly fast, and it goes well with other hardware specs. Huawei said that
this version of Kirin is 40% more efficient than the previous one
(Kirin 950) when it comes to power consumption. Kirin can definitely stand side to side with Snapdragon 821 in running the apps and games. When it comes to memory and storage this phone has some impressive numbers – Huawei Mate 9 has 4GB of RAM and 64GB storage. Mate 9 is expandable up to 256GB with additional microSD. Huawei Mate 9 screen is quite large – it has 5,9'' diagonal with full HD resolution of 1080x1920 pixels on an excellent IPS LCD display. One of many benefits in display specs is definitely Eye Comfort mode, which filters blue light when you are in a bit darker and shady environment. However, the most impressive thing about this phablets is definitely his battery.
With the power of 4000 mAh, this phone can endure days of extended usage.
Huawei specifically said you can
charge your phone in just 20 minutes
and you'll get a full charge, which lasts all day. When talking about batteries with high power, we ask: "What about overheating and potential hazards?" As Huawei claims, their engineers has found a way to overcome this problem. They have used with
excellent protection which balances voltage and monitors temperature
, and also make it extending battery life and minimalize risks at the same time.
The latest Android for the latest Huawei flagship
Software on Huawei Mate 9 is traditionally
EMUI
(Emotion UI) 5.0 is running on
Android Nougat 7.0
. The most recent version of Huawei interpretation of Android goes quite well with the latest Nougat release, so you can count on very
flexible and stable operating system
with some great UX, shortcuts, and built in apps. With such software, phablet stays fast all the time thanks to the algorithm which recognizes apps that you use frequently. You're not supposed to have any problems with speed in approximately two years. If you experience any difficulties, don't worry – EMUI has some simple ways how to get rid of unnecessary data. On top of that, Huawei added some exciting features and support for Google Daydream VR so you can enjoy in different perspectives with your new phone.
Do you want Huawei Mate 9 under your Christmas Three?
We certainly do. It should be one of the best phones released in 2016. With excellent performances, quite a big screen, nice software, and great design H
uawei Mate 9 should be the ultimate phablet of the year
. We hope that we won't have to wait much longer for the final release and that you will be able to order it in MobileShop really soon. Images from:
Mobilenesia
,
PricePony
,
Flagship blog
---
---
---
---
Suche
Suchen und sehen Sie die neuesten Blog-Beiträge.