Best Messaging Apps and Why you Need them?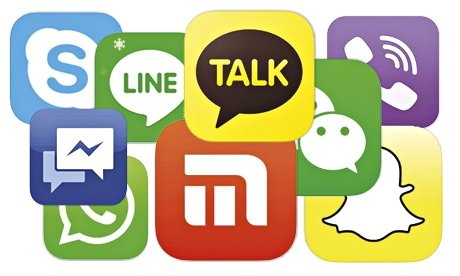 It is easier than ever before to keep in contact with people no matter how close or far they are. And one of the most popular means of communication is messaging. Do you know how many instant messages do we send each day?
More than 50 billion
! One might ask why are we sending so many messages? The answer is quite uncomplicated: there are over 3 million smartphone users out there, and most of them are constantly online. Now add all the messaging apps that are around us to the mix and you will get the answer. So, let's see what messaging are popular these days and why you might consider using one of these, or maybe all of them:
1. WhatsApp
- Quite a favorite app that you can use it to send text messages stickers and media, to start a group chat, or to broadcast. It can be customized as you wish. Best traits of this application are simplicity, reliability and catchiness.
Why using it?
Because everyone else uses it already.
2. Viber
- another widely famous IM service. It uses your phone number to create you a profile and adds contacts from your phonebook letting them know that you are using the service, too. So, it is quite easy to stay in touch all the time. You can use it to send text messages and make voice calls.
Why using it?
Because it has tons of different stickers!
3. Messenger
- When Facebook decided to throw messages out of its mobile app they created Messages. We were all skeptical at first, but we were forced to use it if we wanted to message our Facebook friends from a smartphone (or tablet). And it turns out to be just fine. It has all your Facebook friends on the contact list, and it is clean, fast and convenient.
Why using it?
Because everyone have Facebook.
4. Skype
- Oldtimer in a world of messaging apps, but it is still hanging. You need to have Skype ID to start using it (now Microsoft account), and you need to find the others who are using the same service. Which is practically everyone. Since we are all using Skype for quite a long time, these contact lists have become a real treasure to most of us. [caption id="attachment_8294" align="aligncenter" width="300"] skype_android_2[/caption]
Why using it?
Because you can call landlines and mobile numbers too, if you have Skype credit.
5. Hangouts
- Google has it all, including its IM application. And it is a good one. It uses your Google contact list and enables you to get in touch with them. You can use it for IM, SMS, voice and video calls. And we need to mention - video call quality on Hangouts is excellent.
Why using it?
Because it enables you to have one app to rule them all! (we are referring to IM and SMS :) )
6. Kik
- if you are not a teenager or a jihadist from the Middle East it is not very likely that you have heard of this app. No kidding, teens and Arab world terrorists are the largest groups of Kik's users. The reason is that it enables you to use it with your ID and email address, with no need to use your phone number or any other identification details from your phone book. It has all standard IM features and one extraordinary option - built in browser. You can use it to share web content more easily.
Why using it?
Because it allows you some privacy.
7. Tango
- another fresh face in the crowd. This app has it all: SMS and IM support, video and voice calls, status updates and news feed. It even helps you find people you may know, and offers games if chatting is not enough. Think about it as entertaining, yet a useful app that can help you have some fun.
Why using it?
Because you can play games with your friends.
8. SnapChat
- if you got tired of all the texting, use this application. It enables you to take a photo and send it to your friends. In 10 seconds, the photo will self-destruct. The same rule applies to text messages if you decide to send one anyway.
Why using it?
Because we always wanted to see what it feels like to be in a spy movie where they receive self-destructing messages all the time.
We have presented you with our choice of best chat apps. We know that you are using them too, so if we missed mentioning your favorite messaging application, please let us know!
We would love to hear about the ones that you are using and your reasons why.
Resources:
AndroidPIT
,
The Guardian
,
TechRadar
Images from:
The Guardian
,
LancasterTelegraph
,
Kik
---
---
---
---
Suche
Suchen und sehen Sie die neuesten Blog-Beiträge.