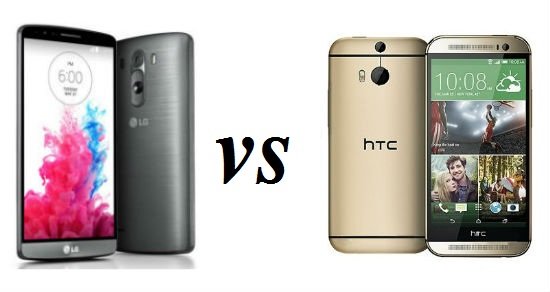 The clash of titans continues. After the fight
LG G3 vs Samsung Galaxy S5
, it's G3's turn again. This time the latest LG's refreshment will stand in front of
HTC One M8
. This is another epic battle with
LG G3
in the main role. This is still new and breathe taking phone. On the other side HTC One M8 is released several months ago and there is almost nothing we don't know about it. These are two completely different phones. The first one is young and powerful, and hungry for glory. The other one is already legend. It takes metal armor and wait for other to shown at the battlefield. LG and HTC don't share life philosophies, and that's why these two great smartphones aren't for anybody. You should already know which you prefer. In case you haven't decided yet, this LG G3 vs HTC One M8 might be helpful for you.
LG G3 vs HTC One M8 Design
Both of them aren't completely new. They took their look from the predecessors and there's nothing wow in it. The LG G3 still looks more refined that the G2. To be honest LG G2 looks just fine, but the G3 is the beauty queen. Instead of typical polycarbonate body it has brushed metal surface which give him so desirable look. It looks more premium than any other plastic smartphone at this moment. The G3 doesn't look just lovelier, it also more fingerprints resist. The back panel, as also as battery, is removable and it's just great. But, before you take off the back side of the phone, you will probably notice nicely positioned buttons, just like on LG G2. It's something that makes LG G3 different and more convenient to use. HTC One M8 doesn't want to have anything with plastic. This beautifully designed phone is made of aluminum and 90% of surface is covered by this metal. It's completely different that LG G3 in every way. It's made of one part and it doesn't allow being open, so there's no removing the battery. Luckily, the microSD port is on the side, so you can expand internal storage. The back side is little curved in order to fits the hands better. The main button is placed high, at the top, which knows be hard to reach.
Winner
: If you prefer larger display with thinner bezels, the LG G3 is more likely to be your choice. But, if you really care about the design, the One M8 is still hard to beat. LG G3 is easier to hold and use, but it would be shame not to give a one plus more to HTC because of incredible 90% of aluminum.
LG G3 vs HTC One M8 Display
Take a look on specs facts. The LG G3 is the first phone with a quad HD display, which boosts fantastic 2560x1440 pixels. The LG's flagship offer bigger and more advanced display. It's really impressive. The contrast, the vivid colors, the viewing angles, the brightness, everything is simply high class. HTC One M8 is one step back. But, just listen how strange it sounds. When somebody says the One M8 is not so good with the display, it has to be some mistake. The HTC's flagship has simply adorable display. It has 5-inch full HD display with no drawbacks. The only different between them is visible while watching some HD videos. But, even then the differences are hard to notice. HTC One M8's display also works seamlessly.
Winner:
Let's say it's LG. If for nothing else then for the fantastic quad HD technology they implemented here. Let's be straight. It's a flatter when you have first quad HD display. Right?
LG G3 vs HTC One M8 Performances
The leading smartphones of this moment are working just perfect. No matter which premium smartphone you decide to buy, you won't regret. The differences between them are minor. Both of these use the same Qualcomm Snapdragon 801 processor. LG G3 has more speed (2.5GHZ), while One M8 is working at 2.3GHz. Also the both are equipped with 2GB of RAM, but the 32GB version of G3 has largely 3GB of RAM. Everything is simply smoothly. The apps are opening instantly. No matter which one you choose, you can count on missing slowdowns, lags or any other inconvenience. According to the benchmarks test, the G3 has an advantage here, but if you really want to find out which is more perfect for you, than just compare their UI, which is sometimes more important that just how many GHz some phone has. If this is the case, I would like to give my vote for fantastic HTC Sense.
Winner:
draw
LG G3 vs HTC One M8 Hardware and Extra Features
It's quite normal that both phones are heavily armed. With IR blasters and microSD they just start heating things up. We already know HTC One M8 has superb BoomSound speakers. No other speakers can match them. LG G3 isn't exception. The battery life is a field where both phones are showing some good results. The G3 has larger battery, but that's understandable because the phone has larger and more quality display.
Winner:
If you are crazy about supreme music or movie experience, than HTC One M8 is outstanding the competitor. You guess the reason. But, if the battery lasting is the priority, then LG G3 is leading because it offer battery to be changed, so you can purchase an extra one to extend the use to two, two and half days!
LG G3 vs HTC One M8 Camera
These two premium smartphones has split here. But, they still have something in common. They produce impressive photos. LG is proud of laser autofucus technology introduces for the first time here. The 13MP sensor with OIS+ (great combination of optical and software image stabilization) give fantastic results. The photos are simply clear, even when you are in move or the object you are shooting is moving. The camera has simply and very fast Auto mode, which you will use most of the time. On the other side, the One M8 is relying on UltraPixel technology with 4MP sensor. It gathers more available light that other kinds of cameras, but in comparison with the latest LG it doesn't show much.
Winner:
If you choose purity and richness in details, then your new phone should be G3. The same thing if you have interest in post editing, because 4MP photos aren't capable of offering you the same experience like ones from 13MP camera. Even the low light photos are better on G3, so there's no doubt LG G3 is winner.
LG G3 vs HTC One M8 Verdict
HTC One M8 is available for several months. LG G3 is a new thing and it seems it brings more freshness in the air. Both phones are great. There's no mistake buying any of them. That's for sure. If you ask for outstanding display, removable battery and super fast and cool camera give G3 a shoot. If the design is something you have to start with, turn to HTC One M8. Also, the HTC Sense offers more excitement, also like BoomSound speakers. Ask yourself what kind of phone you want. What are your priorities? They are approximately cost the same, so the choice is on you.
---
---
---
---
Paieška
Ieškokite ir peržiūrėkite naujausius tinklaraščio įrašus.