Best phones in 2017, so far and why we love them?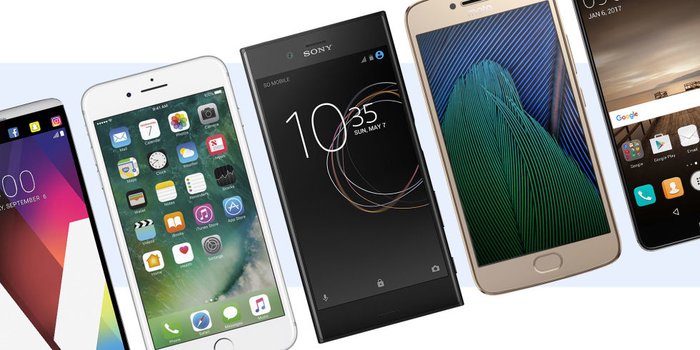 We know it's only the middle of the year but we wanted to check out which are the best phones in 2017 so far, which of them have the best performance, and why are they so specific. So, if you're about to choose your new phone and can't make up your mind, we can help you!
Google Pixel
Would it really be an article about best phones in 2017 if we haven't mentioned
Google Pixel
? Probably not. Here's what Pixel has to offer: - full HD display with 5'' screen, - 4 GB of RAM and 32/128 of storage, - 2770 mAh battery, - working Google Assistant, - Qualcomm Snapdragon 821. First, keep in mind that Google Assistant is not as good as Siri, but it's close. Second, it doesn't have the best design in the world, but it still manages to look quite all right and stay put in your hand. While the most of the specs are fine,
the greatest things of all are display and performance
. Colors are so bright and vivid that it makes you wanna watch more movies, video, and photos on this phone. Furthermore, Google Pixel runs like a charm on Android 7.1. No pauses, no bugging, nothing! Oh, and, did we mention that it has a rear camera of 12MP with f/2.0 lenses, while the one in front provides you with 8MP with the f/2.4 lens?
Why we love it: Best-synced hardware and software.
HTC U11
For the past few years, HTC was always in the top of the market, but without a real champion. Up until now - one of the best phones in 2017 so far is undeniably
HTC U11
. The best features of this device are its
audio performance and attractive design
. HTC U11 has Hi-Re Audio playback when you want to play some files that have high-quality. Furthermore, the phone comes with USonic headphones which can almost entirely cancel the noise out. When it comes to design HTC really surprised us. It has metal and glass casing with 153.9 x 75.9 x 7.9mm dimensions. On the first sight, you can spot a shimmer impress, and our favorite color is definitely Solar Red, which changes its color from gold to red. The fun part is the squeezable edges so the phone can easily fit in your pocket. With some quite amazing specs, such as Qualcomm Snapdragon 835 processor, 3000mAh battery, Android Nougat, 4/6GM RAM and 64/128GB storage this is truly an excellent phone. But, there is a little twist on the camera - the rear one has 12MP and the back one 16MP (both with f/1.8 lens). Perfect for Snapchatting and taking selfies. Somehow, HTC just makes the camera, the battery life, and audio work impressively.
Why we love it: The sound is fantastic!
Huawei P10
If you thought that a Chinese brand can't make it to the top, you were definitely wrong. Sharp but sleek design with Android performance is what makes Huawei P10 stand out.
Huawei P10
runs on Kirin 960, with 3200mAh, 4GB of RAM and 32/64GB of storage. We love that its screen is not over the top - with 5.1'' you get what you paid for. However,
the biggest surprise is the camera
. The rear camera is actually a dual lens camera with 20MP and 12MP, and the wow factor goes to Huawei's cooperation with Leica. The photos are sharp, vibrant and detailed-oriented. Let us not forget the frontal camera of 8MP with a f/1.9 lens. No wonder Huawei P10 is on best phones in 2017 so far list! The one thing that we can say is not the best is definitely battery life.
Why we love it: Great design and extra spice (Leica!) when it comes to the camera.
iPhone 7 Plus
For all the Apple lovers out there, here's a statement: The
iPhone 7 Plus
is just as good as Samsung Galaxy S8, we don't want any drama. That being said, in the comparison to the previously mentioned phone, iPhone 7 Plus does have some minor differences. First of all, it is water resistant, which is a BIG plus. When we hear that the
phone is water resistant
, you know we are going to add it to our best phones in 2017 so far list. It has a dual camera of 12MP with f/1.8 lenses, as well as the front camera of 7MP. The design is modern and definitely, beats Samsung Galaxy S8's. It runs on iOS 10, which is the fastest version and has a superb A10 Fusion processor built in. You also get 3GB of RAM, 2900mAh and you can choose 32 or 128 or 256GB of storage.
Why we love it: Water resistant with the great camera and great performances.
Lenovo P2
Let's just say there is no competition for
Lenovo P2
when it comes to battery life. And, let us shock you right at the beginning -
Lenovo P2 has 5100mAh battery
, which makes it the first company on our best phones in 2017 so far list, that is able to state that. Impressive doesn't even get to describe it! Lenovo P2's battery can last you up to 100 hours and, according to
stuff.tv
, you can play a video for 15 hours straight! Lenovo P2 operates on Android Nougat, with Snapdragon 625 for help, 4GM of RAM and 64GB of storage. It has a good design and a 5.5'' screen. Furthermore, there is a quality camera - 13MP and 5MP.
Why we love it: Battery life lasts up to 3 days!
Motorola Moto Z
This is a very robust designed smartphone. While the battery life that lasts longer than the one on the iPhone 7, but
this phone is mostly known for its thinness
.
Motorola Moto Z
's dimensions are 153.3 x 75.3 x 5.2 mm, which means that Motorola had to reduce battery size and headphone jack. However, this didn't stop us to add Motorola Moto Z to our best phones in 2017 so far list. Motorola Moto Z has a 5.5'' screen which is water resistant thanks to special nano-coating. Furthermore, it has Qualcomm's Snapdragon 820 processor, 4GB RAM, 32/64GB of storage and runs on Android Marshmallow. The camera won't disappoint you either - 13MP for the rear camera and 5MP on the front.
Why we love it: It's thin and waterproof.
Samsung Galaxy S8
Let's be honest here - if you Google
Samsung Galaxy S8
you will find that it is currently the best one in the market.
Its design is compared to perfection
- 5.8-inch screen, with 1440 x 2960 resolution and 2 cameras, 12MP and 8MP. According to
T3
, the 5.8'' screen covers 84% of the body and makes other smartphones look outdated. You know the smartphone is meant for multi media creating and sharing when it has this good of a handset. You should keep in mind 64GB of internal memory, 4GB of RAM and the famous Exynos 8895 processor with eight cores. Combining all of this together and adding good battery life makes things perfect, which is why Samsung Galaxy S8 is on our best phones in 2017 so far list. However, there is just one little thing that pokes you in the eye - fingerprint sensor that is right next to the rear camera.
Why we love it: Because it's perfection. Minus the fingerprint scanner.
This is our "Best in 2017, so far" list. Which phone did you like best and why? Feel free to let us know! images from:
HTC website
,
Lazada.com
,
Samsung.com
---
---
---
---
Paieška
Ieškokite ir peržiūrėkite naujausius tinklaraščio įrašus.