What is wireless charging and how it works?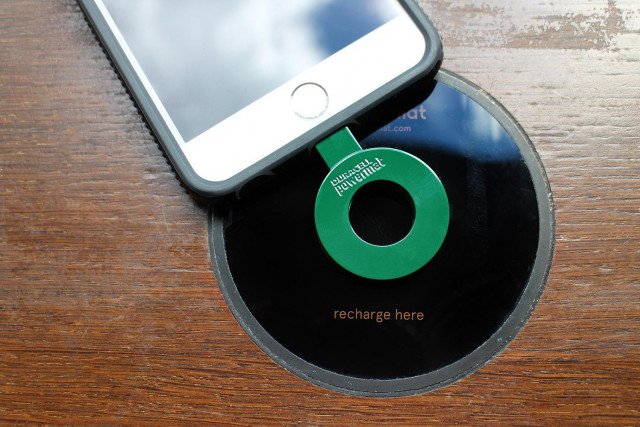 Wireless charging is one of the biggest and most exciting themes in the world, ever since
Mobile World Congress in Barcelona
. We can use this technology for all types of electronic devices, appliances, public spaces and vehicles.
Some smartphones and their accessories already have wireless charging built in
. Many manufacturing companies, such as Samsung, LG, Apple, Motorola and Nokia are trying to implement this technology, as well.
What is wireless charging and how does it work?
This is a very reliable and safe way to charge any of your electrical devices. There are
no connectors and cables
, which makes charging more efficient, reducing cost and increasing safety. Simply put, it is a wireless transfer of power. Wireless charging uses electromagnetic fields to transfer power from transmitting source to your device. The primary purpose is charging or recharging a battery. This new technology is based on a magnetic resonance principle or Inductive Power Transfer (IPT). There are five steps of charging process: 1. Converting - in the first step, mains voltage is converting into high frequency alternating current (AC), 2. Sending AC and inducing - transmitter circuit is sending AC to the transmitter coil. After that, AC induces a magnetic field in the transmitter coil, 3. Extending - AC, which has produced a magnetic field, is extending it to the receiver coil, 4. Generating - the magnetic field is now generating AC, within the receiver coil of the device, 5. Converting into DC - receiver circuit is converting current, which flows in the receiver coil, into direct current (DC), which can be used to charge the battery. The whole technology is based on Inductive Power Transfer (IPT). To achieve coupling of the transmitter and recover coil, IPT uses resonance. There is only one condition that makes IPT work – the transmitter and recover coil must both resonate at the same frequency. This frequency is the one that makes object naturally vibrate. As an example, it is very common to use one tuning for causing another to vibrate, when they are both tuned to the same pitch.
Speaking as a consumer, how does it actually work?
Every customer needs two devices – device with wireless charging compatibility and a compatible wireless charger. The usage is very simple, by plugging the charger into the wall outlet and placing your device on top of it, you have started charging the battery. An indicator light should let you now if the charging had begun. To be sure your device is compatible, check if it is
Qi compatible
. There must be a Qi logo (Q-shaped magnifying glass, focusing on the letter 'i') on the device or the packing. This type of charging pads works with smartphones, smartwatches, cameras, tablets and Bluetooth headsets.
Advantages and disadvantages of wireless charging
Just like any innovational technology, there are some pros and cons of using it. Advantages include: -
Safer and protected connections
- by using wireless charging, there is no corrosion when the electronic devices are enclosed, or away from the water. There is also less risk of electrical faults. -
Use on medical devices
- when it comes to medical devices and magnetic field, which passes through the skin, this technology is lowering the risk of infection. There are no wires which are penetrating the skin. -
No wearing
- considering the fact that there is no process of plugging and unplugging devices, wearing and tearing of the devices are almost entirely gone. -
Aesthetics
- lack of cables is the thing that maintains aesthetics quality. However, there are some disadvantages: -
Time
- this way of charging usually takes slower than via cable. -
The more costs
- wireless charging requires drive electronics and coils in the device and charger, which increases manufacturing costs. -
No standards
- because of the lack of inductive charging, different devices need different charges. There are various wireless chargers.
Smartphones which support wireless charging
Many companies have implemented this technology into their smartphones. Here is the list of 9 biggest manufacturers that use wireless charging: -
Apple
– iPhone 5, iPhone 5S, iPhone 5C, iPhone 5th Gen, iPhone 6, iPhone 6 Plus, iPhone 6S, iPhone 6S Plus, iPhone 6th Gen and iPhone SE; -
Samsung
– Samsung Galaxy S2, Samsung Galaxy Note 3, Samsung Galaxy Note 4, Samsung Galaxy Note 5, Samsung Galaxy S4, Samsung Galaxy S5, Samsung Galaxy S6, Samsung Galaxy S6 Active, Samsung Galaxy S6 Edge, Samsung Galaxy S6 edge+, Samsung Galaxy S7 and Samsung Galaxy S7 Edge, Samsung Galaxy W2016; -
Google
– Google Nexus 4, Google Nexus 5, Google Nexus 6 and Google Nexus 7; -
LG
– LG Lucid 1, LG Lucid 2, LG L2, LG G3 and LG G4; -
Motorola
– Motorola Droid Maxx, Motorola Droid Mini, Motorola Droid Turbo and Motorola Droid Turbo 2; -
Microsoft
– Microsoft Lumia 920, Microsoft Lumia 928, Microsoft Lumia 930, Microsoft Lumia Icon, Microsoft Lumia 950, Microsoft Lumia 950XL, Microsoft and Lumia 1520; -
Nokia
– Nokia Lumia 735, Nokia Lumia 830, Nokia Lumia 920, Nokia Lumia 928, Nokia Lumia 929, Nokia Lumia 930, Nokia Lumia 950, Nokia Lumia 950XL, and Nokia Lumia 1520; -
Sony
– Sony Experia Z3V and Sony Experia Z4V; -
BlackBerry
– Blackberry Priv, BlackBerry Z30;
Is wireless charging just a flingor technology of the future?
Considering the way technology is built, many benefits over traditional cable connectors and widespread use (any industry or device), we can positively say that
wireless charging is not just a one-time thing. However, it still needs some love.
Further development of wireless charging pads and work on the charging speed will certainly be on the top news in the years to come. Images from:
Digital Trends
,
Mental Floss
,
AndroidAuthority
.
---
---
---
---
Search
Search and see the latest blog posts.