Who is the best virtual assistant?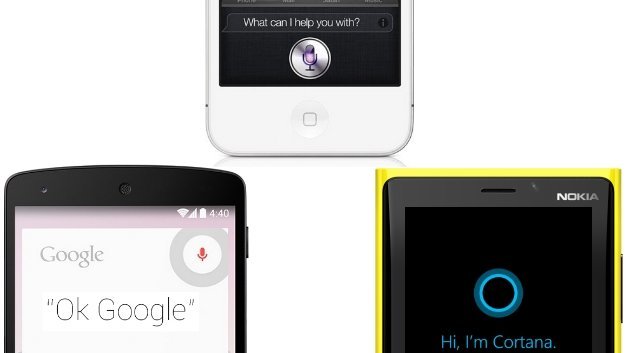 Ever thought of having a personal assistant? The one that will help you get throughout the day, remind you of friend birthdays, or to give you latest news or information that you need? Now, you can have one just by tapping on the screen of your smartphone and saying "Hey!". A virtual assistant is a personal assistant who will
help you go throughout the day
. A virtual assistant will give you pretty accurate, sometimes funny information and make sure that you are following your daily schedule. Even if it's only a software, you will see that a
virtual assistant is quite handy
and that it can be quite a good company. At the moment, you can choose between three different virtual assistants, supported by three major smartphone OS vendors - Apple/iOS, Google/Android and Microsoft/Microsoft 10. So, let's meet them!
Google Now
is an intelligent virtual assistant developed by (you've probably guessed by now) Google. It is available within Google Search mobile application on Android and iOS, as well as in Google Chrome web browser. It was first launched on Android Jelly Bean 4.1 on July 9th, 2012, and firstly supported by Nexus smartphone. Today, it is an integral part of the
latest Android releases
(from versions 5 and 6), and if you are Android user, you can try it immediately.
Siri
is an exceptional virtual assistant, and it is a part of iOS, watchOS and tvOS operating systems. Siri was first introduced with iOS 5 as a feature of iPhone 4s on October 14, 2011.
Dag Kittlaus
, the inventor of this virtual assistant, gave it name Siri. On Norwegian Siri means a beautiful woman who leads you to victory. On the other hand, Siri is also used for shorthand for Speech Interpretation and Recognition Interface. And, of course, all iPhone users can meet Siri at any time.
Cortana
is Microsoft's virtual assistant. It got its name from a big Microsofts franchise "
Halo
" where she also was a personal assistant. It was launched on Windows Mobile devices on April 2nd, 2014. It is an integral part of the latest Windows 10 upgrade, and it will reach a great number of computers and mobile devices around the globe in next couple of years. Now, that we have introduced them,
let's compare some of the most important features
and try to see who is the best virtual assistant for you!
Speech recognition engine
Speech recognition is quite an important part of the virtual assistant software, and it enables it to figure out what exactly are we asking from them. So, it's a great place to start our comparison. We could say that the least capable of these three is Siri.
Google Now and Cortana have packed up their speech recognition engines pretty well
while iOS is still a bit behind. Google Now and Cortana would fix misunderstood words on the fly quite successfully while Siri will keep on searching what it firstly "thought" you said. It never edits the text whether it makes sense or not.
Helpfulness of a personal assistant
Even the perfect speech recognition engine won't help you if your virtual assistant is not programmed well enough to provide you with a quick and accurate answer. Helpfulness is a compact category - it implies that the good assistant should go beyond the basics of support like setting an appointment, opening the app, calling or texting a contact. The virtual assistant should be more talkative and understanding.
Google Now is the most chatty assistant
among these three, but Siri too has its moment. But these two can't be compared. Cortana is silent, it serves you the information on the display, and it lets you do the rest.
Further information that you receive from your virtual assistant
In this section,
Google Now is far more advanced than Siri and Cortana
. For example, when asking Google Now what is the capital of Nigeria, you will get a straight answer right away. Just by asking what the population or time and weather is it will tell you the information you've requested, for the capital city from the previous question. Unlike Google Now, Siri and Cortana treat every question as a separate entity. So if you, try to ask "What is the population?", in the same example, you won't get any answers.
Variety of question
Of course, the range of supported requests also differ, and it is an important factor when deciding who should you "hire".
Google Now is ahead of Siri and Cortana
. It can define words and objects, aware of your schedule. It is also aware of your preferences, so it will provide you with information about your favourite sports team if there is a game. Siri and Cortana won't disappoint you on this too, but to be fair their answers are not as good as the one that Google Now gives. They will probably leave you to read the information on your own, instead of telling you.
Personality of a virtual assistant
When hanging around with someone all day long, you want to be in a good company and with someone who has a personality. Unfortunately,
Google Now loses big time in this category
. By far, you've probably decided to use Google Now, but the most important factor of virtual assistance is actually "having a soul" and being fun. Google Now is neither fun nor it "has a soul". Google Now is the least likeable virtual assistant. For assistant to be successful, it doesn't need to be a robot, but more of a companion that will know how to help you and cheer you up. For example,
Cortana can sing, and Siri will learn to pronounce your name better
and will even remember your birthday. None of this will work with Google Now.
Speed of the response
It is hard to determine which one is the fastest
. The main reason for this difficulty is the fact that Google, Apple and Microsoft developed their assistants differently. They don't always pull out the same information, and they do not always use the same source. Google Now seems to be a bit faster than Siri, and Cortana is slightly slower than Siri. But then again, Cortana is the "youngest" assistant among these three, but we're sure that it will catch up pretty fast.
In conclusion
It is quite difficult to say which virtual assistant is the best. Every one of them has its pros and cons. So, our advice is to
make a choice based on your preferences.
If you are an Android fan, you will probably love Google Now, and you will adore Siri if you are an Apple enthusiast. We hope that someday we will be able to use them across all OS and then we will have a real virtual assistant battle!
---
---
---
---
Search
Search and see the latest blog posts.