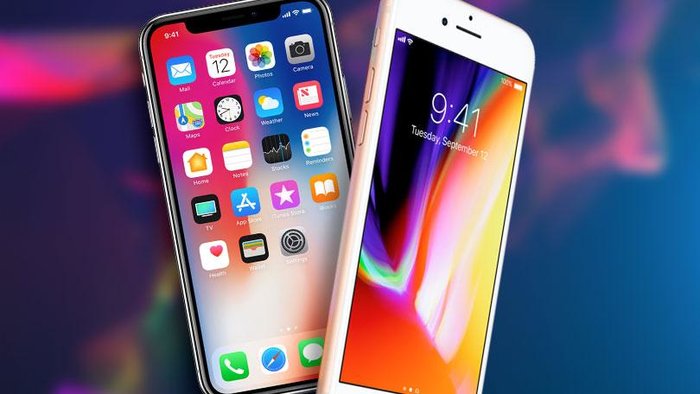 On September 12th, at the
AppleEvent 2017 in San Francisco
, Apple has introduced to us three new iPhones -
iPhone 8
, iPhone 8 Plus and
iPhone X
. iPhone 8 is a natural iteration of iPhone series, while the iPhone X is a tribute to the tenth year anniversary of iPhone smartphones. You have probably heard about the iPhone 8's improved camera and processor and iPhone X's 1,000$ price. So, what's the difference? Who'll win this iPhone 8 vs. iPhone X battle? Let's find out!
Does the size really matter?
When it comes to size, out of the three smartphones mentioned, iPhone 8 Plus is the biggest one. The difference in size with iPhone 8 vs. iPhone X is:
iPhone 8 measures in 138.4 mm by 67.3 mm, and 7.3 mm thick,
iPhone X measures in 143.6 mm by 70.9 mm, and 7.7 mm thick.
As you can see there is a noticeable difference in sizes, but not so much in thickness. However, if you choose to compare weight, the difference is more than evident - iPhone 8 weighs 148 grams, while the iPhone X weighs 174 gr.
Current score:
So far, in the iPhone 8 vs. iPhone X battle, we would call it a tie.
Design
Oh, boy, this is where the iPhone X steps in! First, let's see what iPhone 8 has to offer. iPhone 8's design is what you would expect from Apple. Curved edges and recognizable exterior. This time, Apple went for
glass, instead of the aluminum rear
, which seems sleek and on point. When it comes to aesthetics, we must admit it kinda pokes you in the eye that you can see your fingerprints all over the glass, right next to the logo. Alos, you have to be more careful not to drop it. No one can argue that one of the most significant benefits is that it has IP-67 built in - it is water-resistant. What about iPhone X, you may ask? All of this and much more! iPhone X is not so curved as your typical iPhone. Seems like Apple has been keeping up with the current market trends. iPhone X also has glass design and is waterproof, but
the most substantial advantage is the screen
(which we will talk about later). iPhone 8 comes in three colors - Gold (which is more of a rose gold color), Space Grey (deep grey, almost black) and Silver, while the iPhone X comes in two - Space Grey and Silver.
Current score:
In the second round of iPhone 8 vs. iPhone X battle, we have to go with Mr. X. You merely can compete with the fashionable design and the biggestscreen in the history of iPhones.
The one, the only, the display
One of the biggest surprises in this review is the screen size. While the iPhone 8's 4.7-inch screen Super Retina HD display is pretty cool, iPhone X left us speechless with 5.8'' Super Retina HD display. We can positively say that
the size of the screen does matter.
Another thing is that Apple made one huge move that made iPhone X the winner of this round and that is
OLED display
. Unlike iPhone 8 that has LCD screen, iPhone X has the
famous OLED
. Basically, the difference between those two is in the presence of the dark colors. LCD screen shows amazingly bright, vivid colors, but lacks when it comes to black. On the other hand, OLED is excellent in displaying dark, deep colors. Naturally, the bigger the screen, the bigger the resolution. Here are the differences in resolution:
iPhone 8: 1334 x 750 pixel resolution, 458 ppi and 16:9 aspect ratio,
iPhone X: 2436 x 1225 pixel resolution at 326 ppi and 18:9 aspect ratio.
The one thing we like is that iPhone X has a bigger screen, but is no wider than the one the iPhone 8.
Current score:
In so many words: 1:3 - iPhone 8 vs. iPhone X
.
Cameras and iPhone X's animojis
Both smartphones have 12 MP rear camera, but there are some differences. iPhone 8 has just one camera on the back, with f/1.8 aperture, and digital zoom up to 5x. On the other hand,
iPhone X has two rear cameras
with f/1.8 lens and f/2.4 lens, while the zoom can go up 10x. The most prominent difference actually makes the frontal camera. Both of the front cameras are 7 MP, but iPhone X, as always, has a surprise. We are talking about
True Depth camera
built for the new FaceID. We'll explain this later, now let's get to the famous animojis. Thanks to True Depth camera, you can instantly become an animated emoji - a panda or some other animal.
Current score:
1:4 in the fourth round of iPhone 8 vs. iPhone X battle. The front camera gives iPhone X a considerable advantage. The one on the iPhone 8 is great for taking selfies, but we want more.
Software and hardware
Both of these smartphones run on Apple's
A11 Bionic processor
, with GPU that has 30% improved performance in comparison to iPhone 7. The most substantial change in the hardware department is that you have to be prepared that there is no home button or Touch ID on iPhone X. The thing that iPhone enthusiasts will probably be excited about is the new iOS 11. The things that Apple didn't change are icon design that stayed the same, and Siri who works as good as always. The most significant thing that Apple introduced in iOS 11 is
AR
(Augmented Reality) support thanks to the ARKit framework. This means that you can play with AR games and apps.
Current score:
2:5 - iPhone 8. vs. iPhone X. Both of them get one point in this round.
Touch ID vs. Face ID
Somehow an iPhone 8 vs. iPhone X battle pretty much revolves around Touch ID or Face ID. If you have seen iPhone X's display, you might have noticed a black stripe in the top of the screen. That is actually True Depth camera we were talking about. Instead of unlocking your phone with a finger, you'll be doing it with your face. According to Apple, this camera is built for face recognition and works good in the dark too. But, is it really the truth? At the iPhone Event 2017, one of the executives, Craig Federighi, tried to unlock the phone this way and it didn't work.
Apple said
it happened because many people were playing with the smartphone in the backstage.
Current result:
Hm, it's a tie - 3:6 in the sixth iPhone 8 vs. iPhone X round. We'd go with iPhone X, but we are not sure how this whole Face ID thing works.
Fast, wireless charging
iPhones have one big flaw, and that is battery life. The battery on iPhone 8 is 1821 mAh, which is not that impressive. For the iPhone X, we don't have a clue, since it hasn't been announced in the iPhone Event. However, users want for their batteries to last a full day and Apple might have a solution. We are talking about
wireless charging
and wireless charging device -
AirPower
. Both of the phones have this option, and as an idea, it's a good one, but realistically, not so much. Not only that you have to buy quite expensive phones, but you also have to have enough money to buy something additionally. Let's just say that charging with a USB type C cable is faster.
Current score:
In the seventh iPhone 8 vs. iPhone X round there are no points! Although it is quite impressive and keeps up with the Nexus' and Samsung's smartphones, there is no denying that cable charging rules.
And, of course, the price
If the price is one of the most critical factors for you, go with the iPhone 8, by any means. At our online shop, you can find iPhone 8 with 64GB memory for 943€, while the 256GB one costs 984€. Now, the price of iPhone X might shock you. Although it's not on the market yet (release date is November 3rd), getting this smartphone will cost you 999 bucks for the 64GB version and almost $1,200 for the 256GB one. That's a lot! If this did not discourage you, you could preorder an iPhone X starting from October 27th.
In the end
It all depends on your preferences. With the score of 3:6 in the iPhone 8 vs. iPhone X battle,
iPhone X wins
. iPhone X won just because we are looking forward to bigger screen and animojis, but if the price is your biggest concern, go with the iPhone 8. Sometimes, there is no right or wrong answer. Just Apple. :) Images from:
Apple.com
---
---
---
---
Search
Search and see the latest blog posts.