Are there Really Waterproof Smartphones Out There?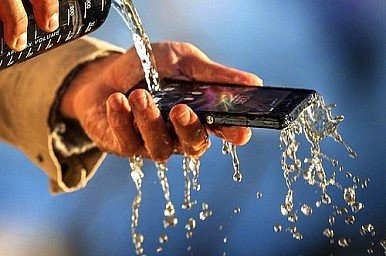 I have always wondered are there really waterproof smartphones, and I bet that you asked the same question recently. So, to satisfy my (and your) curiosity I have made a little investigation to find out are there some waterproof smartphones out there. And this is the story about my search. [caption id="attachment_8335" align="aligncenter" width="300"] Can we really do this with our smartphones?[/caption]
Back to basics
Before we start with the quest, we must be familiar with some marks and technical vocabulary. The most significant mark, in this case, is
IPXX
, which values the amount of dust resistance and waterproof. The IP (Ingress Protection) rating is an international standard for measuring a device's levels of protection against dust and water. The first "X" is the amount of resistance for dust where 1 is the lowest and 6 is dust tight. The second "X" is for water resistance where 1 is lowest against dripping water, and 8 marks the highest protection against the effects of continued immersion in water at depths greater than 1 meter. If you device has a label with IP68, it means that you are equipped with fully water and dust resistant mobile device.
Are Sony Xperia smartphones really waterproof?
Yes, we have discovered that Sony's Xperia are waterproof smartphones(and dust resistant, while speaking of the matter).
Unfortunately, they are not entirely waterproof.
You've probably seen some commercials where people are recording underwater videos with their smartphones, such as this one: Yes, it is possible to do something like that, but it is not quite recommended. Before even trying to such a thing, you must be sure that all covers (USB port, SIM card, Micro SD, headphones jack, and all other removable covers) are properly closed. As you may notice on
Sony's website
,
the company warns customers not to use their Xperia smartphones while they are underwater
. That might come as a surprise when we know that Sony has repeatedly touted the waterproof capabilities of its devices in the past couple of years. Sony explained that the IP rating of their devices was achieved in laboratory conditions in standby mode. The most waterproof Sony Xperia smartphone is
Sony Xperia Z3
with up to IP65/8 depending on the exact model. So, the conclusion is that we should not use our Xperia device underwaters for activities such as taking pictures and recording videos. To be honest,
those smartphones were made waterproof and dust resistant to help you keep your phone in case of an accident
. And to enable us to go to a pool and to a beach with our smartphones in a pocket, without worrying that they will break or get harmed by sand or water. [caption id="attachment_8336" align="aligncenter" width="300"] Sony Xperia Z phones will survive if they accidentally drop in the water[/caption] After reading this, you might ask yourself what should you do if you own a high-end Xperia smartphone? We can't tell you what you can you or can't do with your smartphone. But, this is for sure: you're clear to use it in the wet surrounding. You could probably use it briefly underwater, but this is something that we don't recommend. That is completely up to you.
Are there any other waterproof smartphones?
Enough about Sony. If you are not a big fan of Sony smartphones, you might be wondering are there any other waterproof smartphones. And we have good news for you - yes, there are!
Samsung's flagship devices for 2014, Samsung Galaxy S5, scores the rating of IP67
. Such a high score means that it is fully dust resistant and that it can be submerged up to 1 meter in depth for 30 minutes. As mentioned above, you will need to make sure that all plastic flaps that cover USB port, SD Card, and all the others are firmly closed before you start such an experiment. On Samsung Galaxy S5, the cover is removable, so double check if that it is in place if you still want to try it out. On the other hand, if you think that
Samsung Galaxy S6
is a waterproof smartphone as well, you are wrong.
Samsung Galaxy S6, as opposed to its
predecessor
,
is "afraid" of water!
But, here's another waterproof smartphone that many will not expect to see:
HTC Desire Eye
. This model has IPX7, which means that it is waterproof at a depth of up to one meter for 30 minutes. Of course,
the toughest and most waterproof smartphones are CAT smartphones.
They are not only dust resistant and waterproof; they can also survive a 1.5-meter drops without losing any data or parts. [caption id="attachment_8337" align="aligncenter" width="300"] CAT smartphones[/caption]
What did we conclude in the end?
In conclusion,
I can say there really are dust-resistant and waterproof smartphones
. Unfortunately,
they are not as resistant as we would want them to be
. If we tried to remember ten years ago, we didn't even dream of smartphones as they are nowadays - clever, speaking to us, do things for us, can stand water and dust, and do a lot of other things. So don't worry, we will probably see mobile phones that are fully waterproof and I wouldn't be surprised if we could even use them for internet surfing or texting underwater, as well. Images from:
Equipment World
,
sylifestyle.com
,
The Diplomat
---
---
---
---
Search
Search and see the latest blog posts.