HTC Sensation XL - review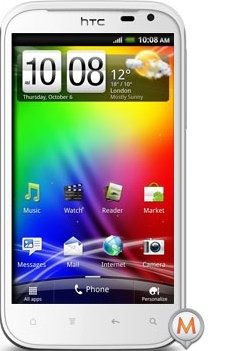 We can agree that it looks like we are a little bit too late with presentation of this model. Debut of this HTC was in October, but we were waiting to see how will users comment this model. It looks like HTC Sensation XL is making good progress on the market, so we will follow his way and tell you couple of thinks about this giant. When we say giant - we really mean giant, it's huge! It's very similar to his big brother HTC Titan, who divided opinions of users because of its size, but this we will not discuss about that subject.
Lets start from the size of HTC Sensation XL: 132.5 × 70.7 x 9.9 mm and weight of 162.5 grams. It goes in white color, which gives the "cool" design, but bad side is the more you use it - the dirtier it gets. The casing is traditionally very good, what is not surprise, especially with aluminum back side.
Display of HTC Sensation XL is HUGE, with 4.7 inches, S-LCD touch screen, with 480 x 800 pixels (we expected a little bit better resolution). Colors are vivid and clear, view angles are great, and watching the images and internet content is fantastic experience, unless you zoom in too much, you will see the lack of the pixels. But, when we talk about camera - we can only say that this perfect camera. With its 8MP and resolution of 3264 × 2448 it's making excellent pictures. Also, it creates perfect 720p video records (it has slow motion). Some extra functions of camera are Geo-tagging, face detection, touch focus, autofocus, HDR, auto-upload... There is dual LED flash for better pictures in darker conditions.
And how fast is HTC Sensation XL?
HTC Sensation XL has Android v2.3 Gingerbread OS, powered by 1.5 GHz Scorpion processor. Lets say this simple: it's very fast and smooth, without any blocking and delays. There is also good interface and updated widgets.
HTC Sensation XL Beats by Dr. Dre
But HTC Sensation XL has one more joker in his sleeve - high quality audio system. It has MP3 and MP4 players, Stereo FM radio and special Beats Audio applications for reproduction of high quality sound and there is limited series with special headsets (Beats by Dr.Dre). Also, there are WiFi connection, Facebook and Twitter applications, Documents viewer/editor and A-GPS support.
The only problem is battery life, because huge display and processor are very energy demanding, but HTC is trying solve this set back. After heavy use of this device, battery takes only one day!
Generally, this device is made very well and there are no particular critics by blog community, so we can say that this good product from Taiwan's company. This is not device for mass commercial use, but there are two types of users: 1. users who are big fans of high quality sound, with all support of mighty processor, and 2. users who wants to be in front of other users, and who like to show this model as prestige.
---
---
---
---
Search
Search and see the latest blog posts.