Windows Phone 7 compared with Andriod and iOS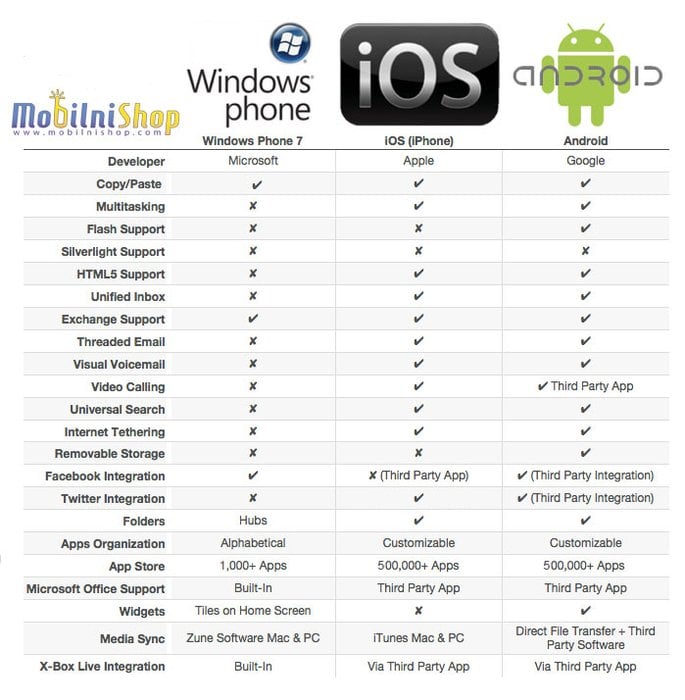 Do you have doubts about operative system of your new mobile phone?
Are you interested what are the benefits and flaws of new Windows Phone 7 when you compare it to Andriod and iPhone OS? Let's see what they have to offer...
Windows Phone 7 has someinnovativeand unique functions, but are they good enough to win the battle over new users? We compared new Microsoft operative system for mobile phones with iPhone OS and Google's Android operative system to see which will be the best.
iPhone OSand Google Android had couple of years to improve their interface and applications, which gave them enough time to build their position in front of little Microsoft Windows Mobile OS. But with a new set of circumstances, Windows came up with new interface, which will be install on many new models.
Microsoft had to build new OS from scratch, what means that, even there was a significant delay in release, new OS exclude couple of applications that are today's usual apps on our smart-phones. On the other hand, Microsoft brings couple of new elements on the market, applications that many of us will prefer due to itsefficiency rather than iOS or Android.
We discussedthe main differencesbetween WindowsPhone 7,iPhone OSand Androidto give you anideaabout the situation of mobileoperating systemstoday.List below provides an overview ofthe characteristicsofOS-what eachof themhasor has not, andafter reviewingall of this, readoutwhatthe bestand worstthings in new WindowsPhone 7.
[caption id="attachment_466" align="aligncenter" width="391" caption="Windows Phone 7 vs iPhone OS vs Android"][/caption]
What is different with Windows Phone 7?
WithWindowsPhone7, Microsoft has made several new concepts.Instead of an non-customizableand static home page (or as Microsoft calls it, "Start" page) like on the iPhone or a widget on Android, Windows Phone 7 uses rectangular "live tiles," cross-merging widgets and applications.Live tiles are linked to applications, with a brief overview about the files in application. This gives the user simple overview of what happens in applications, but could become very complicated when you use too much tile and "scrolling".
On the other hand, the iPhone does not have an active home page, andAndroiduse icons of all shapes and sizes to display information on the Home page.Simplicity oftilesinWindows Phone 7 brings him victory in this category, while the iPhone is clearly a loser.
Windows Phone 7 also groups different functions of the OS into hubs -a cross between folders and screen.Each hub (Home, Office, Contacts, Images, Xbox Live and Zune) has integration with both domestic and third party applications.For example, the hub of the "Contacts", you can view your contacts from Facebook - status updates and comments on them as well. Similarly, the hub "Game" is closely integrated with Xbox Live, while hub "Office" allows you to create, preview and edit Excel and Word documents.You can also access Microsoft Office SharePoint documents and change it, but you can not create a PowerPoint presentation.Music and video (Zune) Hub can provide you with an overview of your music, videos and downloads, or allow you to access the Zune Store.Neither the iPhone nor Android has features that are comparable to these hubs, but you have to choose specific application to open and to perform most of the tasks performed by hubs.
What is missing in Windows Phone 7?
Windows Phone 7 has received many criticism by the users due to shortage of some features that many owners consider usual on their smart phones.
1. Microsoft's new mobile operating system does not "copy / paste" option.If you remember, first, second and even third model of iPhone did not originally have "copy / paste" feature - but it's been more than a year ago ("copy / paste" feature for the iPhone was introduced later with the optionSoftware Update).Android has this capability from day one. Unfortunately, the absence of "copy / paste" functions in Windows Phone 7 does not bring new gold medal for functionality.
2. Another disadvantage is multitasking function, something that Android had from day one, and later introduced for iPhone as well.To be more precise, Windows Phone 7 does not allow other applications running in the background (at the same time), but they are stopped until you return to the that application.This puts the OS in the same position as the iPhone one year ago, when only Apple could have applications running in the background.But to be honest, iOS doesn't have true multitasking.Only some applications in the iOS can work in the background, and even then, only some functions can continue working.For example, music from Pandora can go in the background while you do other tasks on your phone.
3. The third point is the lack of Adobe Flash, Silverlight or HTML5 support for web search.Steve Jobs has squeezed out all the ideas about running Flash on the iPhone, so Android is the only one left in this category.It took over a year for Google and Adobe to get Adobe Flash support for Android, but now the latest generation of Android phones have this feature.If Microsoft really wants to have an advantage over the iPhone and Android, you should have at least support their competing Flash technology - Silverlight.
Other flaws in Windows Phone 7 include:
- No unified inbox
- No threaded e-mail
- No visual voicemail
- No video calls
- No universal search
- No internet tethering
- Limited Removable Storage Support
- No Twitter integration
- Only an alphabetical overview of the application.
Can Windows Phone 7 to win the battle for consumers?Or will the iPhone and the Android army will triumph?
---
---
---
---
Search
Search and see the latest blog posts.