Nokia Asha 203 review - touchscreen and numeric keypad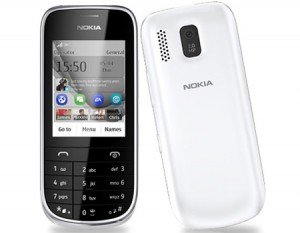 Nokia released new classic phone in June 2012, presenting model that is called
Nokia Asha 203
. If you read before our article about
Nokia Asha 202 review
, you will be confused. Well, at least - I was. It's the same phone, but you will find in Nokia Asha 203 review that this model is NOT Dual SIM. [caption id="attachment_2506" align="aligncenter" width="300"] Nokia Asha 203[/caption]
Design of Nokia Asha 203
Nokia Asha 203 isa candy-bar phone with dimensions identical as for Asha 202. With dimensions of114,8 x 49,8 x 13,9 mm at first look it is not possible to see the difference, at least notuntil you turn on the device and see that it covers ONLY ONE NETWORK! That would be a surprise, agree? It comes in dark red, dark grey and silver white color.Curvy design and weight of just 90g makes this phone suitable for any pocket. [caption id="attachment_2531" align="aligncenter" width="300"] Nokia Asha 203 - colors[/caption]
Specifications of Nokia Asha 203
Beside design this phone also has the same specifications like Nokia Asha 202. It has
2MP camera
and with Selftimer andStill image editor it is quite amusing for people who like to play with images. Phone has Video recording option, Music player, Stereo FM radio and support for Java games. The best thing about this phone is that it supports Email and IM services. This touch and type phone has
2.4 inch resistivedisplay
that is also main navigation tool.
Internal memoryof10MB
is Nokia's standard for low budget phones, while RAM memory is 16MB. If this seams small, you will be satisfy to know that you can upgrade it
up to 32GB
, which is certainly enough.
Advantages :
1) Low price 2) Touch and type options 3) FM Radio 4) Expendable memory 5)Chargeable through USB port.
Disadvantages :
1) No 3G neither Wi-Fi connection 2) Small internal memory 3) Battery capacity of just 1.020 mAh 4) No navigation button. Between
Asha 203
and
Asha 202
which one would you choose?
Source
---
---
---
---
Search
Search and see the latest blog posts.