Nokia Asha 300 review - Master of classic phones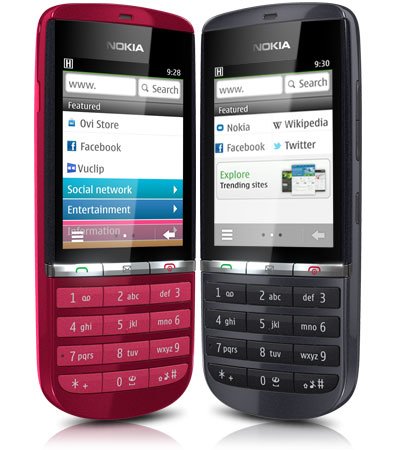 Nokia is trying to stay on its base, giving us model which is presenting definition of Nokia models - classical design.
Nokia Asha 300
is something that you would expect from Finnish company, numerical keypad with modern functions like touchscreen and 3G connection. Asha 300 is presented in autumn of 2011, and we can say that this model already built the reputation on the market.
Design of Nokia Asha 300
With description that we can give you, one is enough - classic. It has very nice keypad over the third of the phone, and the rest is touchscreen field. Dimensions are 112.8 x 49.5 x 12.7 mm and weight is 85 g, which is definition of classic phone shape. There are colors to chose from: graphite, grey, pink red and gold.
Nokia Asha 300 - Angry Birds
Specifications of Nokia Asha 300
Don't get us wrong: this is classic phone - but only by design. Nokia Asha 300 could define as Master of classic design from Nokia. Why do say that? Let's see:
Processor of 1GHz
, which put this "classic" phone into the group of modern smartphones, giving you possibility to browse on the web very fast. It has
operative system S40 Asha
, supporting Java and Flash technology. Asha 300 can use
3G service
, so you can use HSDPA 10.2 Mbps, HSUPA 2.0 Mbps, GPRS and EGPRS. For more details, read about data services and
3G definition
.
Display of 2.4 inch
is resistive touchscreen, so you can navigate with your finger or touch pen.
Camera of 5MP
with resolution of 2592х1944 pixels, with only digital 4x zoom. But there is no flash. For video recording will give you VGA quality.
Internal memory storage is 140MB
, but it is expandable up to 32GB over MicroSD slot.
Battery is 1110 mAh
, which gives you over 4h of talk in 3G, or up to 28h of music playing. Charging is available over 2.0 charger connector or over USB.
Advanteges of Nokia Asha 300:
*touchscreen *good battery *good camera *great processor *3.5mm audio jack *expandable internal memory *games - Angry Birds and app for Facebook
Disadvanteges:
*no-multitasking *no flash *no WiFi *no GPS We can say that
Nokia Asha 300
is Master of classic phones. It has everything you need for daily use - numeric keypad, touchscreen for web browsing, good camera. But there are couple of functions that this Nokia model doesn't have, so it can't reach the higher class in Nokia mobile shop.
Source
What do you think Nokia Asha 300 review? Leave a comment:
---
---
---
---
Search
Search and see the latest blog posts.