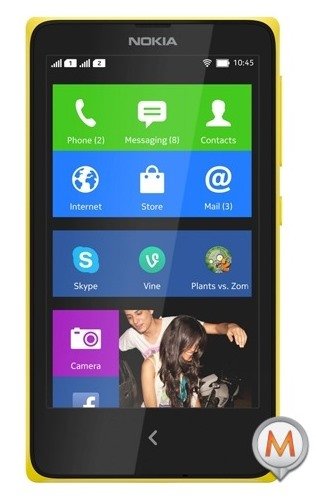 Nokia XL is probably the best and the largest phone within the Nokia's X series. Like its little brother Nokia X, the bigger XL is desirable combination of typical Nokia's durability and the flexibility of Android. Nokia XL is placed below the Lumia 630 and it comes with decent hardware and price. So, is there any hope Nokia XL will be good device or just a phone with high expectation? What Nokia XL has to offer that other similar price Android handsets can't? Is Nokia XL quality build like typical Nokia's devices? There are lot of questions, so let's start with giving some answers.
Nokia XL Design
It not so hard to guess what company made this phone. With strict square shaped form and flat surfaces, there's no doubt this is Nokia's phone. Also, this is a big phone. Beside traditional massive 5-inch screen, Nokia XL has large bezels around it, so the phone is bigger than other 5-inch competitors. The XL is chubby and not so pocket friendly phone.
The sharp edges and little slope at the back are in paradox. On the one side Nokia has big dimensions and sharp edges (hard to hold). On the other side, the slope is there to prevent slipping. Also, the 10.9mm in waist isn't something to handle easy.
Both sides are with Nokia logo. The front side has single button, under the screen. This is no backlit button and sometimes is hard to find it, especially in dark. The main button is at right side, just next to the volume rocker. Both of them are good reacting to the touch and they look nice.
Generally, the design is nice. Some of us simply like clear square shape. Ok, Nokia XL isn't the best suiting phone in hand, but not the worst at the same time.
Nokia XL Android Customization
This is the most interesting thing about this phone. Like its younger brother, the XL work on customized 4.2 Jelly Bean version of Android OS. Like Nokia X, the bigger XL is lacking Google Play support, which is replaced by Nokia Store. There you can still find enough app, but without some the most popular. Fortunately, the Store offers social network apps, but video games too.
Maybe you will be out of Google's apps reach, but you will get Microsoft's instead. Also, the Nokia's services are at your service. The UI is definitely inspired by Windows Phone, but with option to import widgets. Also, there is Fastline - feature that collects your recent apps, messages and calls.
Nokia XL Screen, Specs and Performances
If we step aside with Android + Nokia fame, the XL is hardly to be some monstrous machine. The 5-inch screen offers poor 480x800 pixels. This resolution suits perfectly for much smaller screen, but on large 5-inch pixels are visible, and the image quality isn't good at all.
Below the surface swims 1GHz Snapdragon S4 Play with 786MB of RAM. I haven't seen for a long time less than 1GB of RAM, which is the main reason why some apps are automatically shooting down with "not enough RAM" message. Fortunately, Facebook and some other popular apps are working just fine.
The 2,000mAh battery is giving one day of life to this unusual phone, even by the heavy use like mixture of video watching, browsing and calls + messages.
Nokia XL Camera
The XL has 5MP camera with LED flash. Maybe it isn't one of the best in its class, but surely it can make very decent photos, with a respectively amount of details and accurate colors. On the front side you can see and use 2MP camera, aimed for making selfies and video calls.
Nokia XL Verdict
Nokia XL is the best you can get from Nokia's X series at this moment. This low-mid range device is priced very well, so we can't complaint about it price. The problem is that are many competitors which offer more power for same price. Nokia XL is lacking some power (primary duo to low RAM), but it offers decent design and interestingly customized Android. Enough for you? If not, you can pick any of numerous truly Android competitors with better features and performances.
Photo: nokia.com
---
---
---
---
Search
Search and see the latest blog posts.