Samsung Galaxy Tab 4 8.0 Review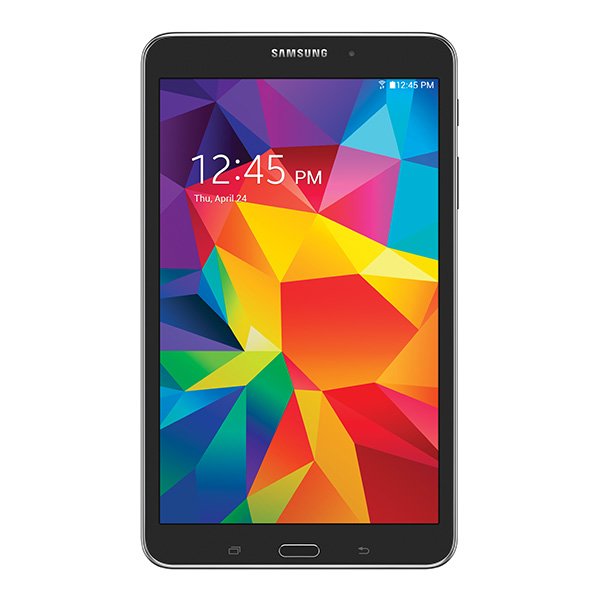 Samsung has launched its newest Tab series several months ago. It's named Tab 4 and it includes 7, 8 and 10.1-inch devices. Sammy plans to cover the whole range of tablets, so that nobody can compete with him. Beside the three sizes, Samsung is ready to introduce an improved design, topped with faux leather, which becomes a standard part of tablets coming from this company. We'll start a Tab 4 journey with a middle sized member of family. Samsung Galaxy Tab 4 8.0 is a 8-inch Android tablet aimed to those who want comfortable, but not to small tablets, like 7-inch are. Also, it comes with affordable price, so it could be interesting to see what Galaxy Tab 4 8.0 has to offer.
Samsung Galaxy Tab 4 8.0 Design
It's hard not to notice a typical Samsung style. The body made of plastic and authentic look of the front side simply tells us it's just an ordinary Samsung. We keep in mid this is a mid priced device, so the combination of plastic and a faux leather at the back looks nice. It gives a more premium feel in hands, and gives more business outfit.
The Samsung Galaxy Tab 4 8.0 is very thin. With just 7.95mm in waist doesn't make any issues about use. It fits nicely in one hand, no matter how long you're working with it. The front side is nice looking part. The bezels are now thinner, so the screen has more space for itself.
The Samsung Galaxy Tab 4 8.0 brings a replacement for standard option capacitive buttons. Instead of it, this Tab 4 has a "recent" or a button for multitasking. Beside it, there are a hard home button and capacitive back button. The minor issue could be that there is no back light, so the keys are not easy to reach in the dark. At the top stands front-facing 1.3MP camera. On the back panels are the main 3MP camera and mono speaker, with not so delighting compatibilities, but it works a basic job.
Samsung Galaxy Tab 4 8.0 Screen and Features
The TFT screen produces 800x1200 pixels. It's not a result to be proud of, but it isn't the end of the world. Sammy cut the resolution, but they have forgotten that competitors have more to offer. The screen has a decent quality. The colors are vivid and pleasant to the eye, which covers the lack of pixels. The viewing angles are good, also the readability under the sunlight. So, without intent to cover the average resolution, this screen has a lot to offer.
Usually the 8-inch tablets are made to fill the gap between small 7-inch and large and not so handy 10-inch tablets.
The software Samsung has included here is based on Android 4.4.2 KitKat and arranged by standard TouchWizz UI. The UI seems to be simplified by the one we have seen on the Pro tablets and Galaxy S5. That's the reason it's easy to use and with good graphic background. I'm sure you'll not have any problems using it. The tablet is coming with a lot of features. Many of them are already installed on some other Samsung's devices. The most important are Smart Stay, for intelligent turning on and off the screen, WatchOn for controlling the TV via IR blaster. Also, the user can count on Guest and Kids mode, also on the Smart Power Mode.
Samsung Galaxy Tab 4 8.0 Specs and Performances
The tablet is powered by 1.2GHz quad-core processor with 1.5GB of RAM. This might sound like outdated, but it's not. The tablet works just fine. Some lags happen here and there, but nothing terrible. Also, don't forget about the affordable soul of the device, so these specs shouldn't worry you too much.
Maybe the processor had to be slowed down, but not the battery. The 4.450 mAh capacity is more than enough for average user. Listen to this. If you use this tablet in the moderate manner (browsing the net, watching YouTube and movies, and even playing the games) you can reach 3 or 4 days with a single charge. That's fantastic!
Samsung Galaxy Tab 4 8.0Camera
If you were excited about the battery life, you should slow down for a moment. The 3MP camera can't thrill anyone. It makes average photos by the daylight, but the indoor photos are not quite well. But, let's be honest. Almost nobody uses tablet for taking photos, so the Samsung Galaxy Tab 4 isn't exception.
Samsung Galaxy Tab 4 8.0Verdict
If you look for a good price-quality ratio, Samsung Galaxy Tab 4 is a good choice. It is a good looking device, with long lasting battery, and decent screen. Ok, the pixel density could be better, camera too. If you don't mind this, and the lack of 3G /LTE support, this tablet can be a good choice. It gives a fresh Android base and great Samsung's features.
Photos:samsung.com
---
---
---
---
Search
Search and see the latest blog posts.