Sony Xperia Z2 Tablet Review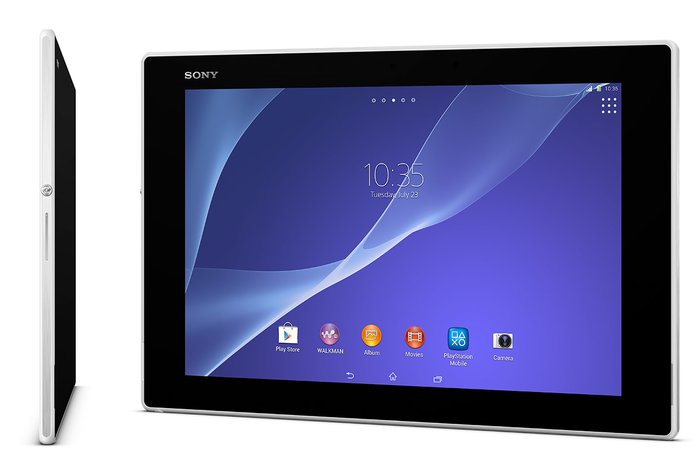 Sony Xperia Z2 Tablet
is a direct successor to the Xperia Tablet Z. As usual, the new Sony generation brings a noticeable improvement. It's primarily about the new quad-core Snapdragon processor 801 and the latest KitKat Android. Sony Xperia Z2 Tablet brings the latest and greatest from the world of hardware and software, so there's no reason not to declare it in advance as a really great device.
Sony Xperia Z2 Tablet Design
A new generation of Sony tablet is very thin. The device has only 6.4 mm in the waist. Even if you don't know this information, it becomes clear as soon as you take 10 inch of pure cutting-edge tech in your hands. The device weighs 426g, which is considered a good result. This is basically the main reason why this device is so expensive. It's clear that perfection has a price, which is everything but low. However, the build quality could be slightly better, because the tablet doesn't inspire much with confidence and the robustness, but nothing that would lead you to serious doubts that it will be damaged by a clumsy move. Sony Xperia Z2 Tablet looks quite the same as the predecessor, without front buttons, and the significant effects of the glass. The background is not too crowded with details too. There is only a Sony logo. Having always in mind the price, this tablet should have avoided large bezels around the screen. Therefore, the tablet loses a little of the high class look, and large area on tablet is wasted. However, this situation has a positive side, your fingers can be there. Like all Sony devices, Sony Xperia Z2 Tablet is waterproof. All external ports are covered. On the surface, there is also an infrared port, allowing you to remotely control the TV.
Sony Xperia Z2 Tablet Screen
This 10-inch screen comes in full HD resolution. With 224 pixels per inch isn't the champ, but it's great to view multimedia content. The picture is very clear. The text display is outstanding and it is impossible to notice articulated pixels. Photos (and colors on them) are great. The reason for this is that Sony applied Triluminous technology, which is used in the TV manufacturing. The colors are strong and deep, and if it doesn't fit you, simply go to settings and choose a combination that suits your needs.
Sony Xperia Z2 Tablet Specs and Performance
In this thin "packaging" Sony has managed to put quite powerful processor with the latest technology. Powerful Qualcomm's unit is working on an impressive 2.3 GHz with support for even 3GB of RAM. Therefore it is no surprise that the tablet has absolutely no problems at work. Without delaying everything runs smoothly and it really is a pleasure to use this tablet. Even the demanding video games work very well. That's why Sony Xperia Z2 Tablet has no target group. It's just good for all categories of users. Of course, if you can afford it. The 6,000mAh battery has fairly good results. For mixed use (a little bit of everything), Sony Xperia Z2 Tablet can provide just over 13 hours. However, the situation is different when you play video games, because the battery melts fast. Minor objection is the time it takes for the battery charge, and it usually takes longer than usual. If you use the tablet for less demanding applications, then the battery can take for a while, but if you're planning to take a trip for a few days, be sure to bring your charger with you.
Sony Xperia Z2 Tablet Camera
The main 8MP camera is reasonably good. Ok, let's be straight. Tablet of 10 inches will not be able to replace a smartphone camera, but it's practical for shooting at home. Image quality is good. The colors and brightness are at a good level. Of course, with the poor lighting, photos get noise, especially since there is no flash, which is certainly a failure for a such a device.
Sony Xperia Z2 Tablet Conclusion
Sony Xperia Z2 Tablet is a step forward from its predecessor. The difference between them is not huge, but certainly exists. One of the main arguments of this tablet is glossy and thin design, as well as water resistance that will keep it away from accidental contact with water. Quad-core processor is ideal for every job you have for this great tablet. Last, but unavoidable question is whether Sony Xperia Z2 Tablet is worth this much? You try to give the answer after looking at similar competing devices. Photos and video:
sonymobile.com
---
---
---
---
Search
Search and see the latest blog posts.